<![CDATA[
One thing you can be sure, Road to California is all about having a quality good time. So when the opportunity came to have Road sponsor a quilting trip through the Panama Canal, Carolyn knew that this would be another great way for quilters to have fun. After all, what could be better than a group of like-minded quilters, sailing on a world class ship, seeing the world and quilting all the way?  
The Road to Panama Quilt Cruise  is being coordinated by Deb Roberts and her World of Quilts Travel and Textile Tours. Deb is herself an experienced quilter, historian, collector, teacher, author, judge and appraiser. She has been interested in quilts since childhood and passionate about travel for as long as she can recall. While traveling several years ago, it dawned on Deb that she was spending much of the time seeking out places to see quilts, getting to know quilters, buying unique fabrics and seeking out those who knew about the area's quilts and quilt/textile history.  After seeing things that opened her eyes to what has been available in other countries for centuries, gave her pause to think about sharing all she was experiencing with others, and thus she organized her first tour to France in 2004.
What had Deb meticulously planned for Road to California? A trip that leaves Ft. Lauderdale, Florida, travels through the Panama Canal, goes up the Mexican Riviera, and ends in San Diego, California. The itinerary includes over 25 fun filled workshops, inspirational scenery, and amazing classes taught by extraordinary instructors. Sewing machines are provided as well as shipboard accommodations, on-board meals and entertainment. The trip also includes open sewing sessions, a "Pirates of the Caribbean" block contest, and a "Splash from your Stash" contest. The trip ends with a Farewell Fiesta and show and tell. And for those people who love swag, there will be plenty of surprise gifts along the way.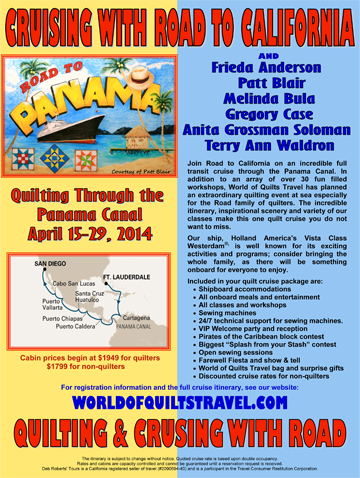 Whatever your interest: meeting new quilt friends, travel, learning from the best teachers or cruising and whether you like to travel alone or with family, there is something for everyone to enjoy. Won't you come quilting and cruising through the Panama Canal with Road to California? The ship leaves port April 15-29, 2014. Visit www.road2ca.com for more information. Adios and Bon Voyage.
]]>
Tags: Panama Canal, Quilt Cruise, World of Quilts Travel and Textile Tours