<![CDATA[
As the Road to California Cruise sets sail for the Panama Canal, filled with quilters, favorite teachers, and our own Carolyn Reese, we know there are friends and loved ones left at home eagerly waiting for reports of this fantastic voyage.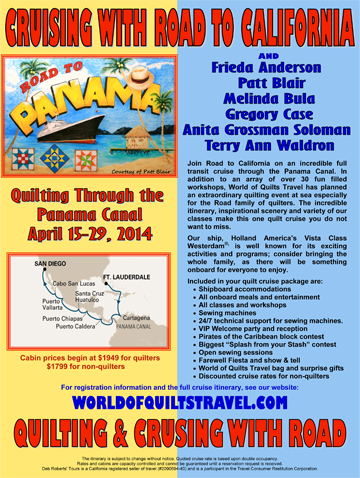 One such family member would be Randy Graves, husband of Road's multi-talented Stevii Graves. Stevii is well known at major quilt conferences around the country for judging and finding instructors.  She oversees the judging for Road to California and is counted on for sharing her quilting expertise throughout the show. With all her travels, her husband Randy is often left behind at their home in Virginia. While he gets lonely at times, Randy thinks it is "outstanding that she is active and independent. I am a firm believer that people need to do things to their fullest." Randy certainly isn't bored while his wife is away. He has many things to keep himself busy and involved.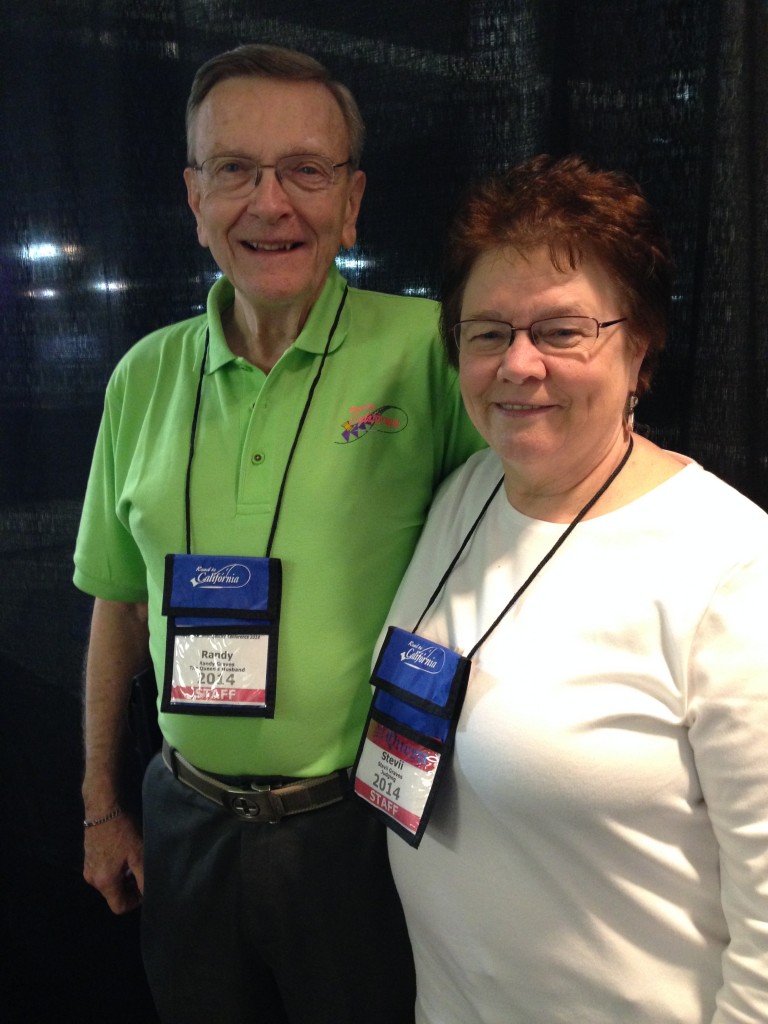 Randy, 75 years old, has a doctorate in Mechanical Engineering. He has worked for NASA, has had his own company making sails, and is now retired. He stays busy spending a lot of his time volunteering for his alma mater, George Washington University in Washington, D.C..  Currently, he serves as chair of their National Advisory Council for their School of Engineering and Applied Sciences, having served on that council for 14 years. Randy is also a director with GWERT, a mentoring organization that provides experienced volunteer mentors to student and faculty startups at George Washington.  And he is on the Board of Directors of the George Washington Alumni Association.  When Randy isn't working with his GW groups, he is spending time with his hobby, doing machine metal work on a milling machine. He has spent the past four years designing a four cylinder airplane engine.
How did Randy and Stevii meet? Stevii's father was an Admiral in the U.S. Navy stationed in Washington, D.C.. It was Randy's cousin who introduced them. Randy and Stevii knew each other for just 6 weeks and had only 2 formal dates before they were married. They have been married 47 years, have three children and five grandchildren.
During their married life, they have lived all around the United States.  It was all that moving around that got Stevii interested in quilting. In the late 1970's, when they were living in Poquoson, Virginia, (a town so small there were no stoplights), Stevii went to the local community center to sign up for a class. Feeling a tad isolated, she was hoping not only find something to do, but meet people as well. Stevii noticed at one table, there were a lot of women laughing. She decided she wanted to join that group and whatever class they were in. It ended up being a quilt class. Not only did she find fun, she found a community.
As an engineer, Randy "loves quilting" and going to quilt conferences. This year at Road, he accompanied Stevii and we put him to work. His duties included helping to check in and oversee the vendors, serving as the official announcer for the conference, and overseeing the daily raffle drawing. Randy thinks Road "is a great conference. I like the people and making new friends. It was fun to be a part of the set up." And he said it was quite the experience walking through the exhibit hall with his wife. "Stevii remembers so many faces and names. It was incredible to watch."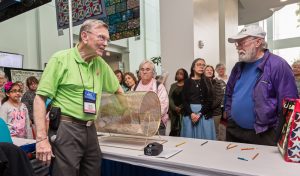 Road appreciates Stevii Graves and her hard work for the show. And we really appreciate her husband, Randy Graves. Not just for sharing his wife with the quilting world but for all his engineering contributions too.