<![CDATA[
Claire Victor won $2,000 for her Modern Quilt Entry, Lost in Space, from sponsor, Modern Quilt's Unlimited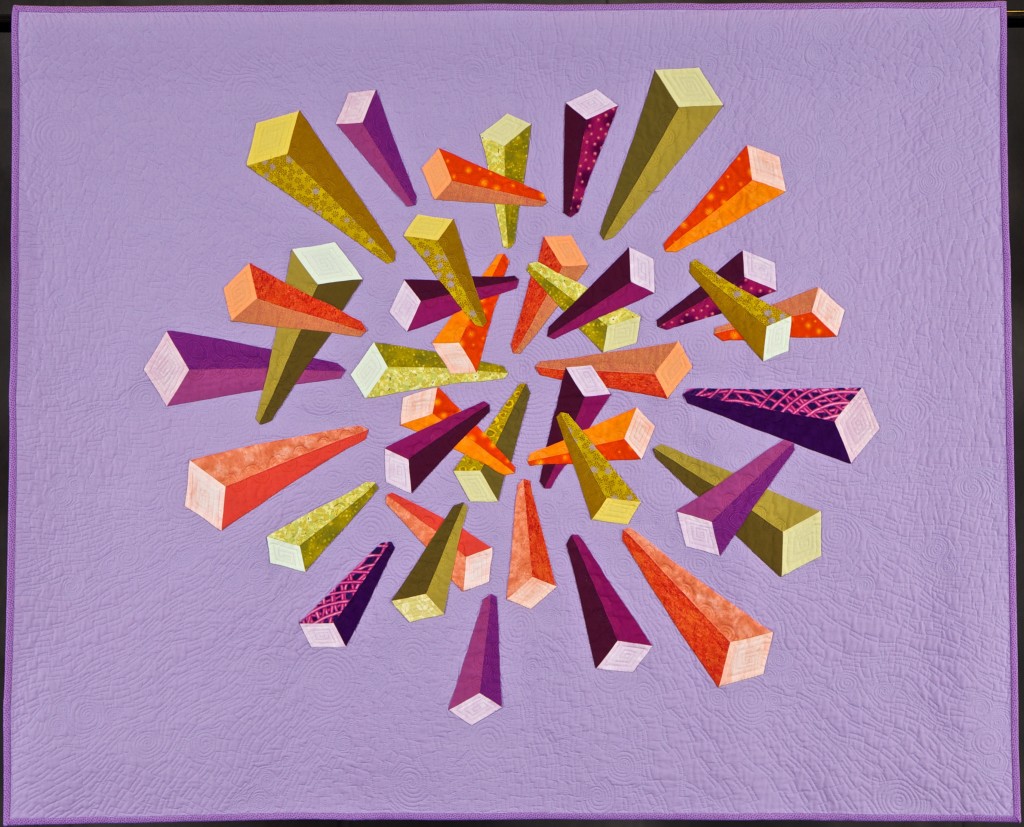 About 15 years ago, Claire Victor decided she wanted to sew her own clothing. Inspired by her mother who was a great home seamstress, she started taking lessons at her local sewing store, Hartsdale Fabrics in Hartsdale, NY.  Downstairs in the store, they had a quilt shop; something she had never seen before. What she saw there was so much more interesting than any preconceived notion she had had of what quilting was, and they had classes! Because of her work schedule, she was unable to take a class at that time but she sent ahead and bought the Eleanor Burns – Log Cabin Quilt-in-a-Day book, picked out some fabrics and off she went. She figured it all out on her own, laughed a lot along the way, had fun throughout the entire process and never looked back.
What inspired Claire's winning design, Lost in Space? "I am interested in geometric patterns, especially ones with illusion. The tumbling block is my "block of choice." I do them every which way I can think of. Recently, I had the chance to join a hand sewing group at Monica's Quilt and Bead in Palm Desert, CA and I started to learn appliqué. All the ladies were doing more traditional patterns which did not interest me so I designed my own, an elongated tumbling block. The group came up with the name "Lost in Space".  My favorite reference books are from Sara Nephew and Marci Baker. I had also been studying an old Katie Pasquini-Masopust book.
How long did it take to make your winning quilt? What did you learn along the way? "I decided long ago to never pay attention to how long it takes to make a quilt; I just do it until it's finished. But if I had to guess, I would say three or four months. It was a great journey; since this was my first appliqué quilt. I was (and still am) having trouble with the technique but it was very interesting to figure out the design and combine machine piecing, English paper piecing, hand sewing and then machine quilting.
What was your reaction when you won?  "My first reaction was complete disbelief, and then I cried (a little). You might wish and dream about these moments but believe me they come when you least expect them. Needless to say, once I recovered, I was extremely honored."
Did you do anything special with your prize money? "Almost immediately I ordered a custom made Sew Steady Table and the rest just went into my general sewing fund."
Where do you go from here with your quilting? "I just continue…open to future possibilities. After saying I would 'NEVER do appliqué' it has turned out to be so interesting and challenging. I can achieve things with appliqué that I could not with regular piecing. I am now working on my fourth appliqué quilt.
]]>
Tags: Applique, Eleanor Burns, Katie Pasquini-Masopust, Modern Quilting, Modern Quilts Unlimited, Monica's Quilt and Bead, Winning Quilt