<![CDATA[
Some families go to the movies. Other families go camping. The Dommer family goes quilting.
Meet the Dommer family: daughter Terri Dommer Krause; son, Keith; and mom, Darlene.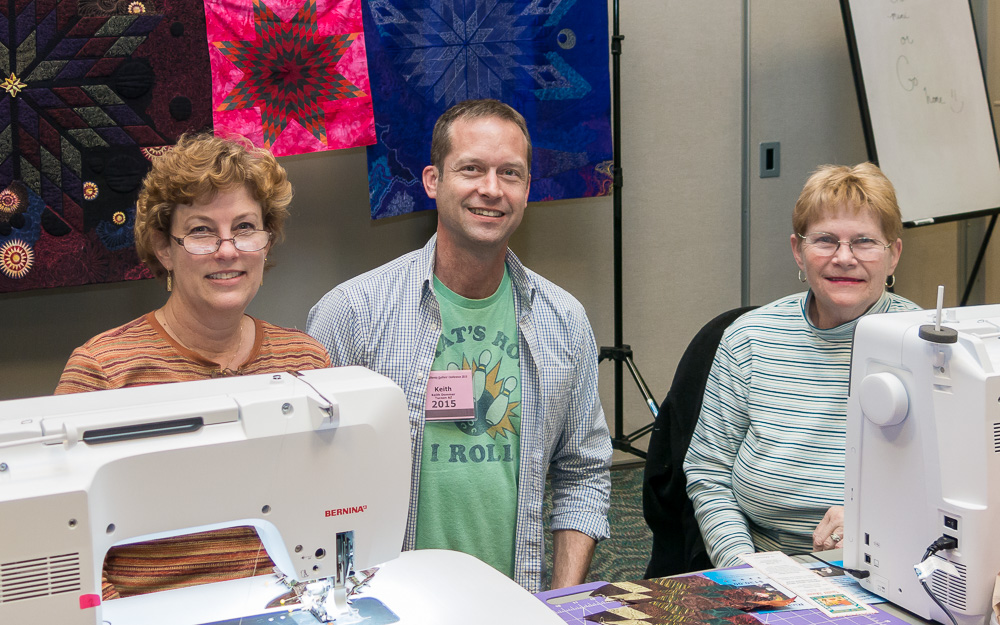 For over 20 years, they have planned get-togethers around their love of quilting. With Darlene's birthday falling near the week of Road to California, it has been a tradition for the Dommers to help their mom celebrate by going to Road together and taking a class or two. It's a natural way for the three family members to spend time together and encourage each other with their quilting.
How did they get started in quilting? Darlene sewed clothes until about 40 years ago, a friend invited her to attend a city sponsored quilt class. Terri also started out sewing clothes. She says she didn't own a pair of store-bought jeans until she got a job out of high school!! Terri thought quilting would be a fun way to use her sewing skills. Keith grew up watching his mom and grandmothers quilt and thought they made "ugly things." In 1990, he went to Visions, an art quilt show in San Diego and it just drew him in. His quilting is a great complement to his day job as a CPA.  
Each of the Dommer family has their own quilting style. Darlene prefers traditional quilting and has done some appliqueing. While Terri loves applique, she doesn't have any desire to do it. She prefers a more traditional style and gives away most of the quilts she makes. Keith started out making pieced quilts. After 10 years of quilting, he started doing machine applique. His quilt tops integrate bold, graphic designs. Keith has won numerous awards for his quilting including this second place award for Traditional, Large, Mixed at Road to California in 2012.
[caption id="attachment_3186" align="aligncenter" width="407"]
Celtic Christmas Crossing by Keith Dommer[/caption]
What do they enjoy most about their annual Road family outing? For Darlene, she loves the inspiration she receives for trying new techniques. Keith is always astounded by the beautiful quilts and feels that "Road showcases the cutting edge of where quilting is currently heading." Above all, Terri thinks Road is the best place for a family outing. And we would have to agree!!
How many quilters are there in your family?
]]>