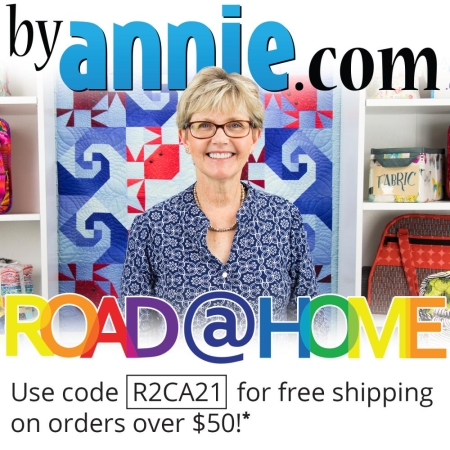 Watch our video, use the coupon and visit our special Road@Home page!
We wish we could be joining you in person for Road to California this year, but we're still excited to sew with you virtually for Road@Home 2021!
---
To share our excitement, we're offering you a coupon code (use R2CA21 at checkout) for free shipping on orders over $50 in the USA. Outside the USA, you can use that code for 50% off shipping on orders over $50.
Coupon valid for online orders only, placed between Jan. 19, 2021 and Jan. 24, 2021.
Below, you'll find a list of our different products with short descriptions on each one. We hope you'll be inspired!
If you didn't know, we're also committing to weekly livestreams on Facebook with Annie, where she talks about patterns, Soft and Stable, techniques, and more! Follow and Like our Facebook page, or sign up for our email to stay in the know!
Categories: Kits,Batting & Stuffing,Notion & Tools,Patterns
Home
Back to vendor list