Class List
Classes for Special Events
9100C – Fashion District, FIDM, Michael Levine, and Mood
$124.00
Road Staff
Location:
One day
Monday, January 16th 2023
From 8:00 AM to 5:00 PM
We have a special treat in store for you today. We will explore some of our favorite shops in the Fashion District.

Our first stop this morning is the Los Angeles Fashion District (www.fashiondistrict.org) where you'll have a chance to wander and shop. We'll drop you at Michael Levine's where you will find fabric of all kinds at a discount. Michael Levine's is located in downtown Los Angeles and carries fabrics at great prices from many well known manufacturers such as Kaufman, Hoffman, RJR, Kona Bay, Wilmington, South Sea, Riley Blake, Studio E, Elizabeth Studio, and Westminster, just to name a few.

From there we will take you on a walking tour of the Fashion District to share with you our favorite places for fabrics and embellishments. There are shops with beads, ribbons, silks, and just about anything you can think of to incorporate into your next quilt or garment. We will travel to the Grand Central Market where we will have lunch (on your own). The Market is a downtown landmark since 1917 and brings together the cuisines and cultures of Los Angeles. With over 30 eateries to choose from, there is something for everyone. If you have time, walk across the street to see the Bradbury Building. Built in 1893, it is an architectural landmark in downtown Los Angeles known for its extraordinary sky-lit atrium of walkways, stairs and elevators made with ornate ironwork.

After lunch we will have a private tour of the Fashion Institute of Design and Merchandising (better known as FIDM). The FIDM Collections currently hold over 15,000 objects of high fashion, covering more than 200 years of history. We then travel to Mood (https://www.moodfabrics.com/). Yes, that Mood! The one you've heard about on Project Runway! This, too, is one of our favorite shopping spots. We promise fabric, fabric, and more fabric!
---
9200C – Exploring the Inland Empire - Mission Inn and Shop Hop Tour
$124.00
Road Staff
Location:
One day
Tuesday, January 17th 2023
From 8:30 AM to 4:30 PM
We'll tour the historical Mission Inn in Riverside. Note that this is a 75-minute walking tour of the Inn. You'll have an opportunity to learn about the history behind this California icon. We will also visit two of our favorite quilt shops in that area – Quilters Cocoon (Riverside) and Cotton Gin (Redlands). We'll have a scatter lunch (not included in trip price) while at the Mission Inn. You can dine there or at one of many eating locations adjacent to the Inn.

The Mission Inn & Spa began as a quaint adobe boarding house in 1876, becoming a full-service hotel in the early 1900s. Opened by Frank Miller, it expanded in 1903 with over 200 guestrooms and the addition of the Mission Wing, built in Mission-Revival style while incorporating architectural features from more than 20 different California missions. Three more wings materialized as demand grew, including the Cloister, Spanish Wing and the Rotunda Wing, completed in 1931. Miller filled the hotel with valuable items from across the glove, including artwork, furniture and religious relics. Mission Inn still houses the oldest bell in Christendom, dating back to 1247. (https://www.missioninn.com)

The Quilters Cocoon has the largest selection of Kaffe Fassett fabrics in Southern California. They are also a "one-stop shop" for tuffets, square and round. They have a wonderful variety of fabrics (yardage and pre-cuts) to choose from as well. (https://www.quilterscocoon.com)

Cotton Gin Fabric in Redlands, is located in the heart of beautiful downtown Redlands, CA. It is the go-to shop for your fabric addiction! The store sells high quality 100% cotton fabric from beloved manufacturers such as Hoffman, Benartex, Robert Kaufman, Moda, Alexander Henry, Art Gallery, and more!
---
9400D – Party Time!
$40.00
Road Staff
Location: Doubletree Ballroom
One day
Thursday, January 19th 2023
From 7:00 PM to 9:00 PM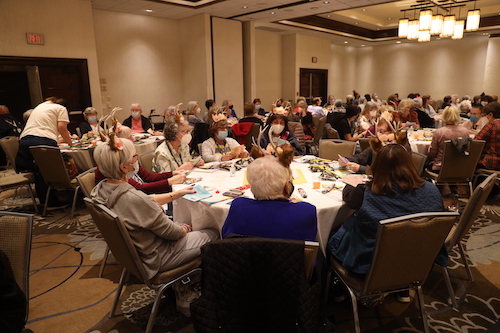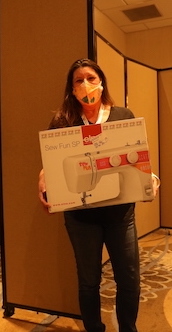 Come join us for a fun time! At the Double Tree hotel on Thursday night quilters gather for a night of games and fun. Don't forget the prizes either! This event hosted by Road's very own Matt Reese makes for an exciting evening. This event is a attendee favorite and one you do not want to miss.
---
9500D – Roundabout
$30.00
Road Staff
Location: Doubletree Ballroom
One day
Friday, January 20th 2023
From 7:00 PM to 9:00 PM
Continuing from last year we will be having our lectue style Roundabout Event. Instead of moving to the teachers and maybe missing one we bring them right up front for you to watch. You get to hear 10 minute demos on different styles of quilting and textile crafts. We will be announcing the presenters at a later date, but whoever you get to see you are guaranteed to learn something interesting and have fun!
---