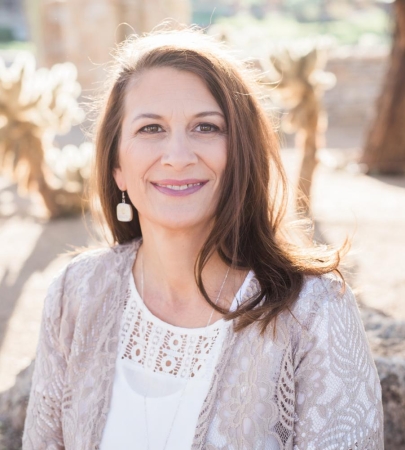 Helen Robinson and her sister Jenny Pedigo are the co-owners of Sew Kind of Wonderful - a contemporary quilt pattern/specialty notions design company.

Helen claims the 'nerd alert' title and randomly starts talking about geology, astronomy, ancient cultures, definitions of words, etc... you get the picture - she is a former elementary school teacher and ESL Instructor to college students — but now she gets to teach about all things quilting - her hobby and passion for over 23 years!

Helen loves to create modern quilting elements and Jenny loves scrappy and traditional.This combination makes them a great team and gives Sew Kind of Wonderful designs that unique traditional/modern feel which is so appealing to quilters!Helen is also great at novelty quilt designs - she always has one of her many sketchbooks and is constantly doodling another little quilt design.Helen loves the complete quilting process from design, to fabric selection, piecing (she is a really fast piecer - no pins!), and then finishes it all with some quilting on her Gammill longarm (Gammill quilt artist!).

Helen feels privileged to be part of the quilting community that has room for everyone to be creative and unique with 'sew' many different mediums and ways to share the inspiration and creativity that comes to all of us!She loves working with family in the business and is excited about some fun new things coming to SKW!
Classes:
2009C Step by Step Custom Quilting
3018O Posh Penelope
4017O Diamond Daze
5016O Flower Pop
6019O Posh Penelope