Class List
Classes for Monday
1001C – Quilting with Rulers
$111.00
Gina Perkes
Location: Room 103
One day
Monday, January 17th 2022
From 8:30 AM to 3:30 PM
Kit Fee $
40.00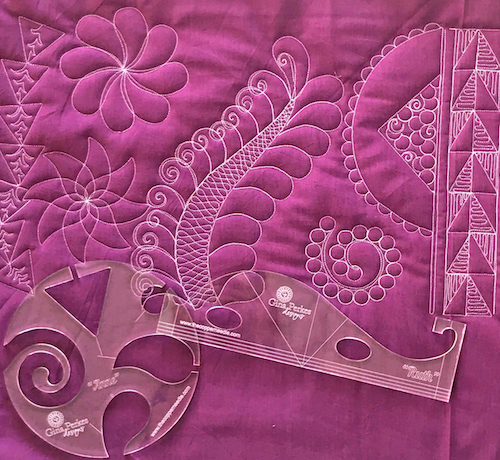 Skill Level: All Levels

Description: Join Gina and discover how to free-motion quilt using a variety of ruler templates. You will come away with fundamental techniques that will lead to successful quilting with rulers. This class will give you a firm introduction to the world of ruler work, and you can use these techniques again and again! You'll learn a wide variety of designs in this creative and stress-free class!

Machines Provided by: Viking

Kit Contents: 2- Machine Quilting rulers, 1 stencil, gripping aids, tracing tools.

Click Here to Download Your Supply List
Wait List only
---
1002C – Carolina Lily
$117.00
John Flynn
Location: Room 204
One day
Monday, January 17th 2022
From 8:30 AM to 3:30 PM
Kit Fee $
22.00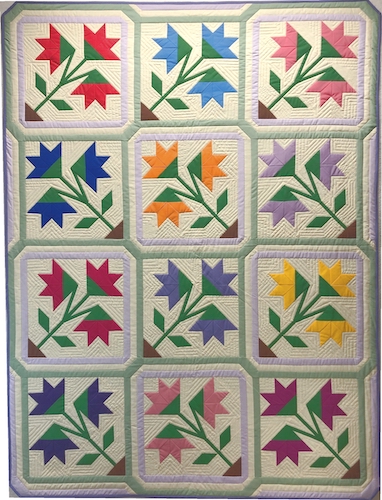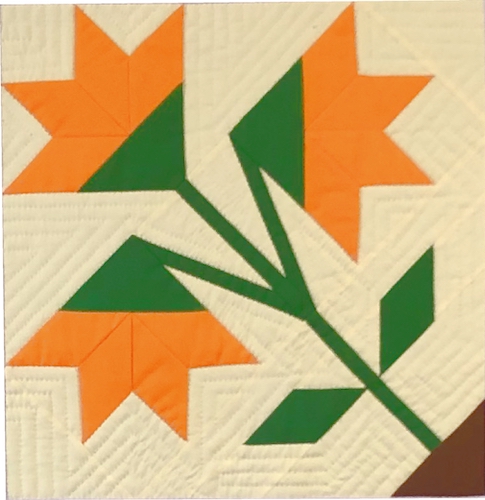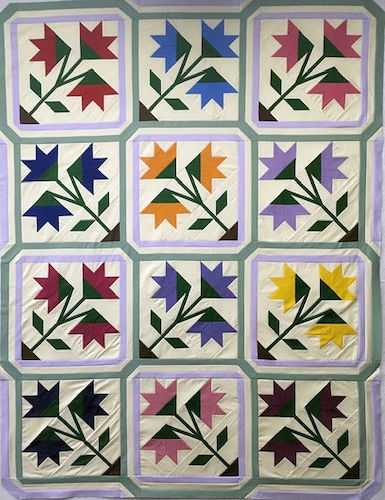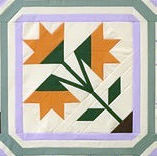 Skill Level: All Levels

Description: The Carolina Lily pattern was very popular from the mid-1800s through the 1930s. It is one of the most beloved quilt patterns. The pattern was often done in red and green fabric and sewn by hand. With his engineer's mind, John has modernized the way this quilt is sewn. Pre- cut kits in a variety of sizes are available to be sewn with John's logical step by step instructions.

Machines Provided by: Baby Lock

Click Here to Download Your Supply List
---
1003C – Storms at Sea
$102.00
Kate Flynn Nichols
Location: Room 105
One day
Monday, January 17th 2022
From 8:30 AM to 3:30 PM
Kit Fee $
10.00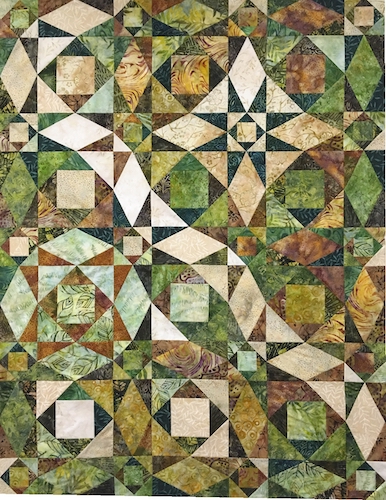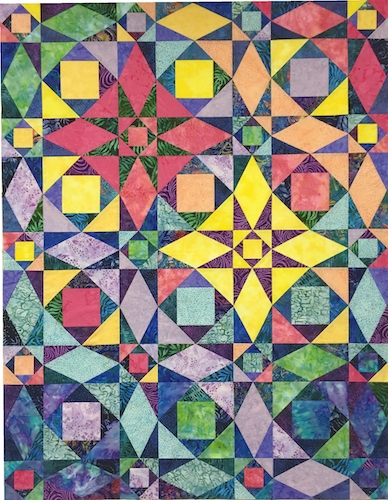 Skill Level: Intermediate

Description: Storm at Sea is an optical illusion and a fun design project. Learn to accurately piece this block, manage all the seams, and unlock its potential design elements.

Machines Provided by: Pfaff

Kit Contents: 1-16" Storm at Sea laser cut batik block and Kate's recommended tool kit

Click Here to Download Your Supply List
---
1004C – Traditional Hawaiian Applique
$102.00
Carrie Fondi
Location: 1st Floor Board Room
One day
Monday, January 17th 2022
From 8:30 AM to 3:30 PM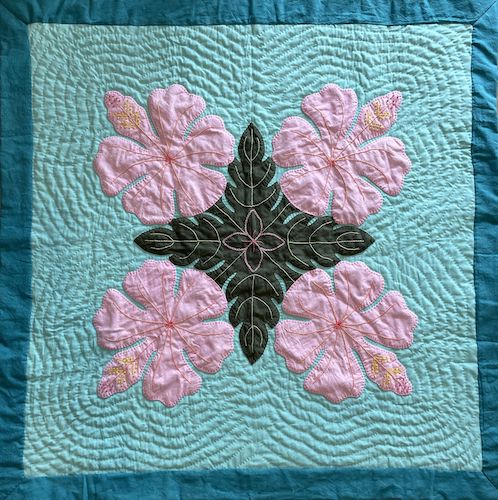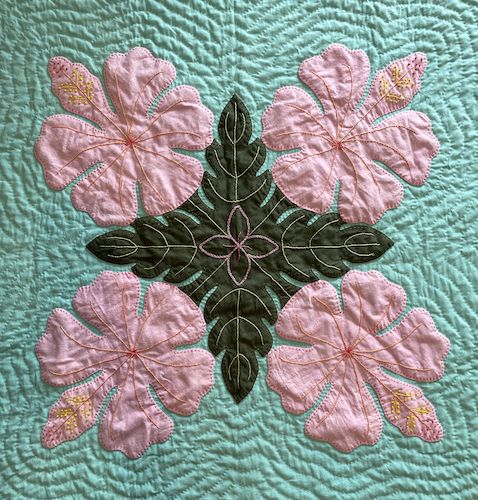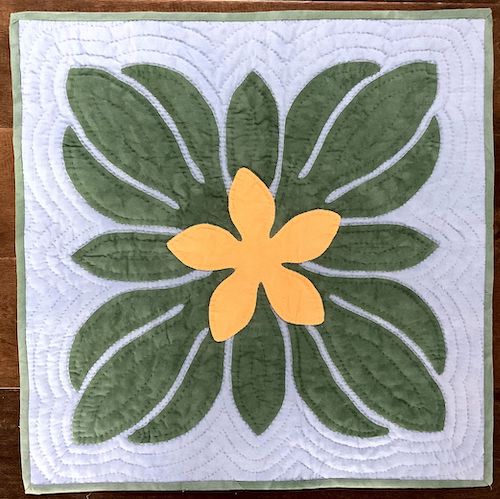 Skill Level: All Levels

Description: Learn the traditional art of Hawaiian applique with the history and superstitions that created the unique symmetrical quilts. Learn how to cut, fold and appliqué a traditional Hawaiian quilt pattern the "Aloha Way". Class sample is a 18in. pillow.

Handwork Class

Kit Contents: None

Click Here to Download Your Supply List
---
1005O – Color Me Quilts - Sunflowers and Roses
$102.00
Desiree Habicht
Location: Ontario Airport Hotel Sierra Ballroom
One day
Monday, January 17th 2022
From 8:30 AM to 3:30 PM
Kit Fee $
45.00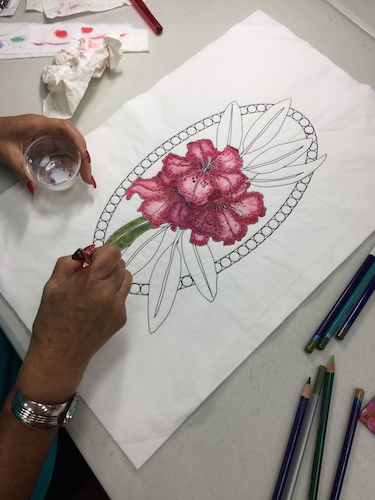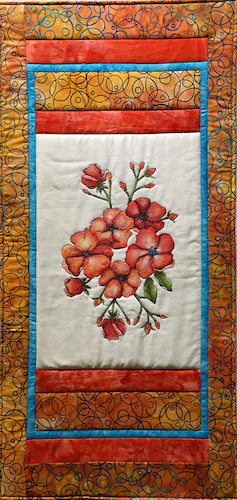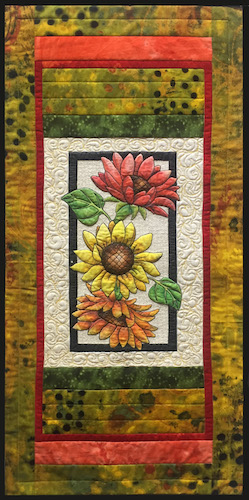 Skill Level: Beginner - Intermediate

Description: Come let Desiree show you how to use Inktense pencils to create this beautiful Sunflower or Rose table runner. You will learn her techniques for creating realistic flowers along with other techniques you can use to enhance other quilts to give them dimension and depth. No Art experience is required.

Painting Class

Kit Contents: Large Pre-stitched block for coloring , 5 Inktense pencils, textile medium, assorted brushes, cup, paper towel, Desiree's Table runner pattern for your block

Click Here to Download Your Supply List
Wait List only
---
1006C – Scarlet, Lady Bug Collage
$123.00
Laura Heine
Location: Room 104B
One day
Monday, January 17th 2022
From 8:30 AM to 3:30 PM
Kit Fee $
105.00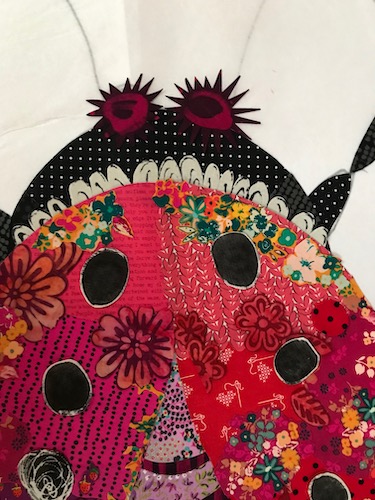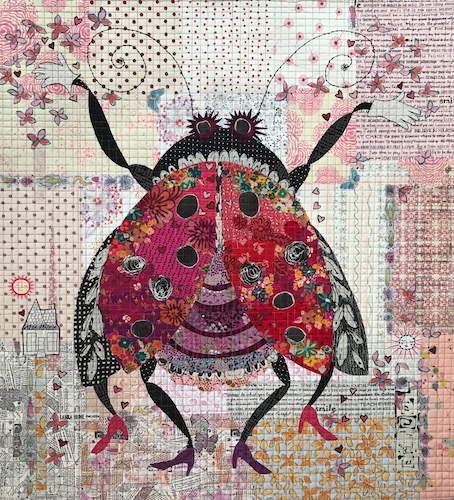 Skill Level: All Levels

Description: Learn Laura's collage technique while creating this fun, whimsical collage quilt!

Design Class

Kit Contents: all fabrics to complete the quilt top, binding and pattern.

Click Here to Download Your Supply List
Wait List only
---
1007C – Beginner Free Motion Quilting
$97.00
Teri Lucas
Location: Room 107BC
One day
Monday, January 17th 2022
From 8:30 AM to 3:30 PM
Kit Fee $
35.00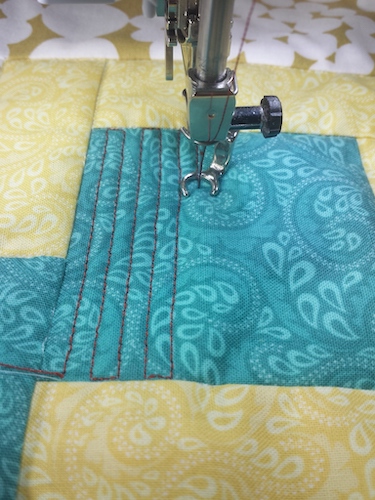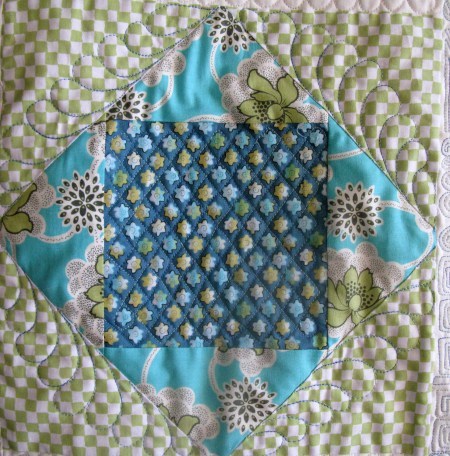 Skill Level: All Levels

Description: From straight line stitching through writing your name, and feathers learn the basics of free-motion machine quilting. We'll cover thread weight, tension, and speed to get great stitching.

Machines Provided by: BERNINA

Kit Contents: pre-marked quilt sandwich, thread, needles, handout

Click Here to Download Your Supply List
---
1008C – Champagne & Pearls
$97.00
Krista Moser
Location: Room 203C
One day
Monday, January 17th 2022
From 8:30 AM to 3:30 PM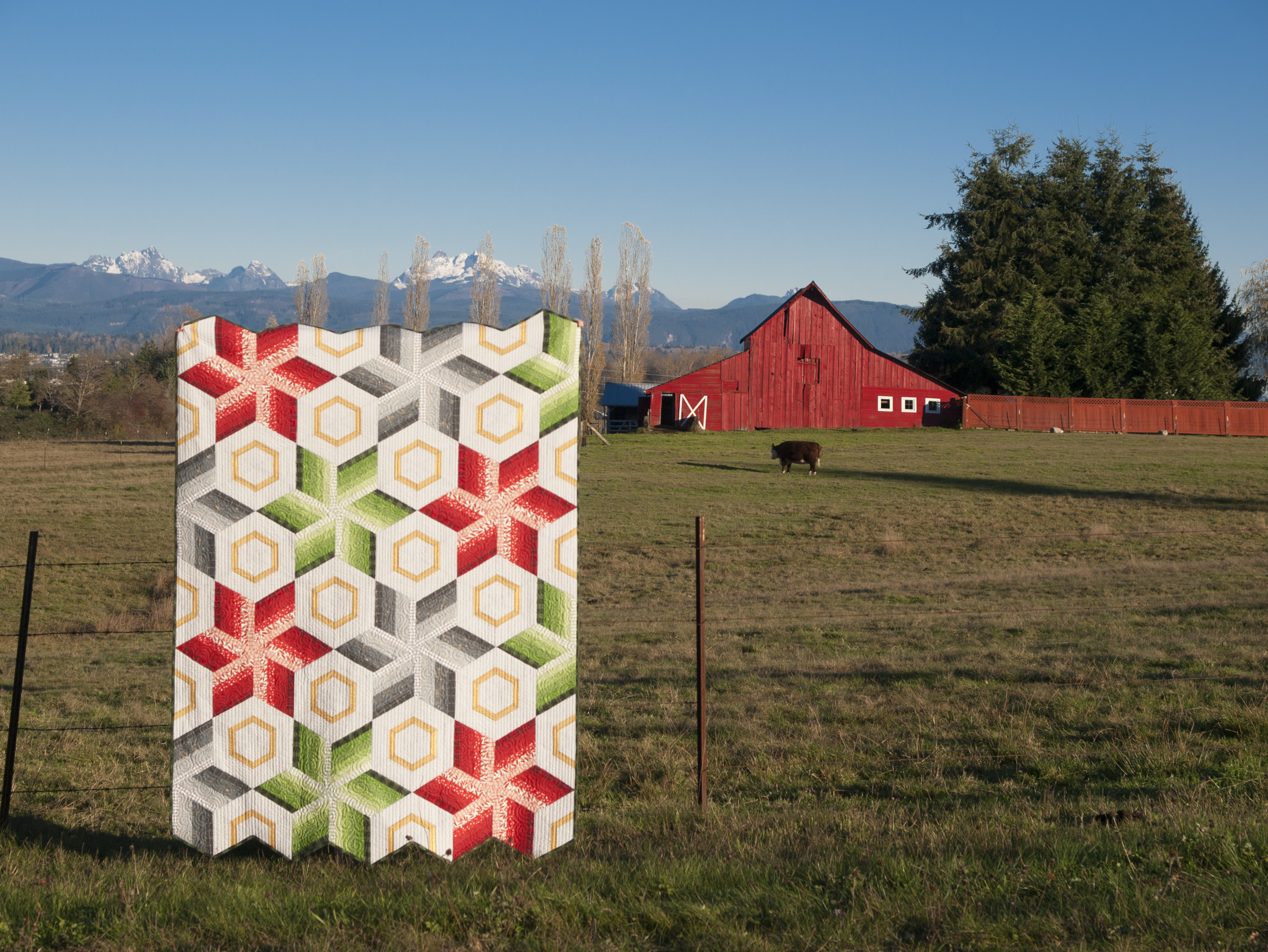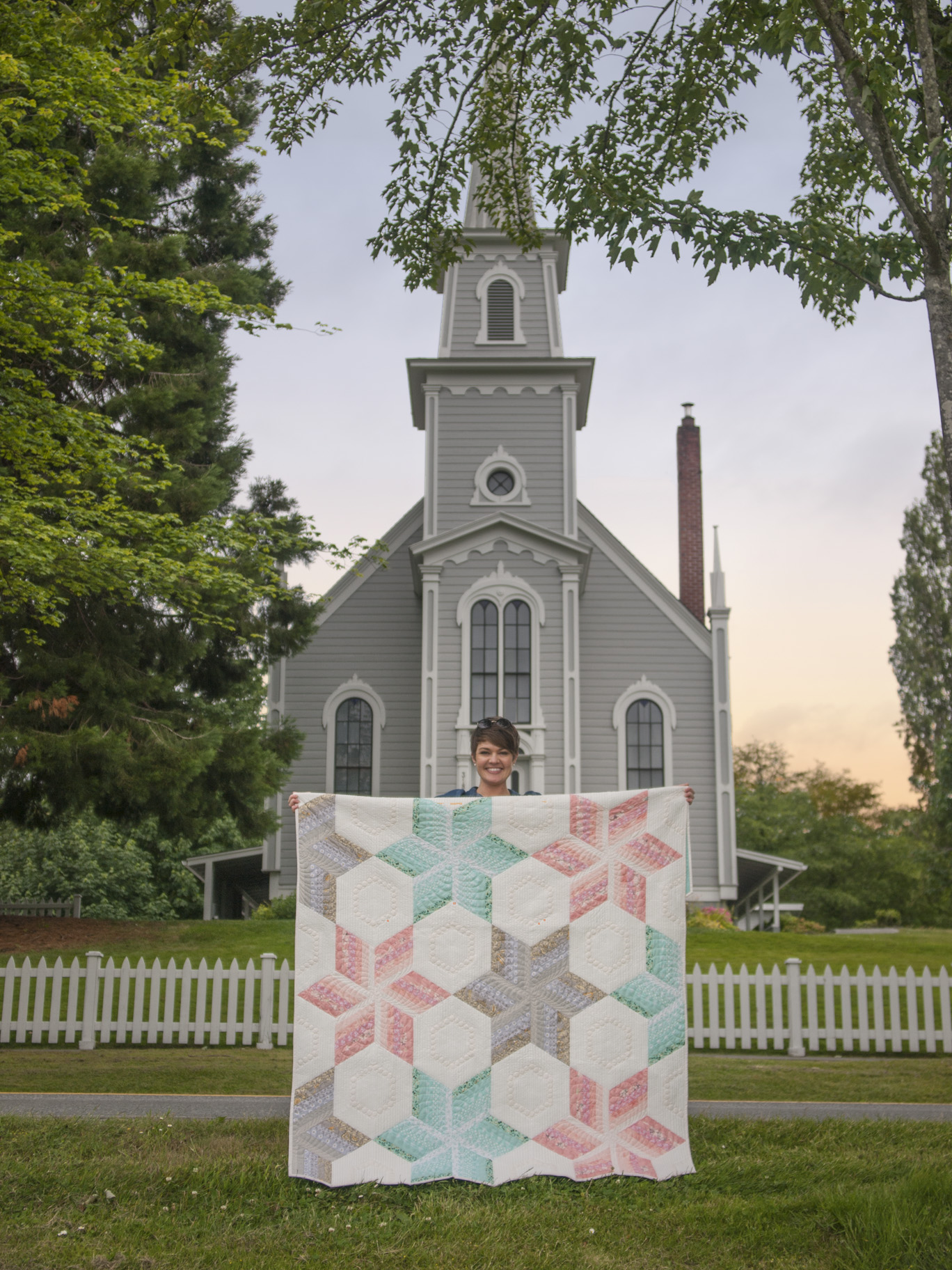 Skill Level: Beginner - Intermediate

Description: Versatile and Foolproof! Looking for a great quilt to learn new skills? Something that looks complicated but is so easy you won't believe it! This quilt has the beauty of tradition, but could be changed up with holiday colors or maybe even patriotic! It's a star with a hidden gem in the background detail. You will learn some foolproof piecing techniques you can use on any future quilting project. Krista will teach you all the tips and tricks for cutting and piecing diamonds and triangles in an easy, fast, and precise way. If you have been wanting to break out of the same old quilting routine and try something different, this class will inspire confidence and equip you with new techniques.

Machines Provided by: Janome

Kit Contents: None

Click Here to Download Your Supply List
Wait List only
---
1009C – Wonder Feathers
$137.00
Jenny Pedigo
Location: Room 200C
One day
Monday, January 17th 2022
From 8:30 AM to 3:30 PM
Kit Fee $
15.00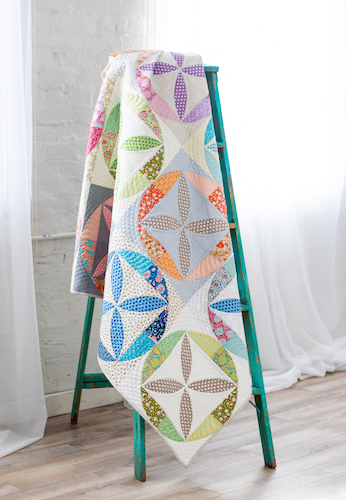 Skill Level: All Levels

Description: Feathers are one of the most iconic quilting designs! They can make a big impact as a custom quilting element or as an all-over design. Work with Jenny Pedigo of Sew Kind of Wonderful to create different variations of 'feathered' quilting. Jenny will help you find a style and method that makes creating feathers fast, fun and easy! At least fifteen (15) different feather designs will be shown step-by-step. Don't miss out on this chance to make feathers a go-to quilting element that can be used on any quilt!

Machines Provided by: Handi Quilter
Note: This is a stand-up longarm class. Two students share a machine head, and time is split equally on the machine.

Kit Contents: Full color booklet with examples and practice area. Disappearing ink pen. Practice Block. Pre-loaded long arm machines with backing, batting and top fabric.

Click Here to Download Your Supply List
---
1010N – Tilework
$137.00
Jodi Robinson
Location: Room 1
One day
Monday, January 17th 2022
From 8:30 AM to 11:30 AM
Kit Fee $
20.00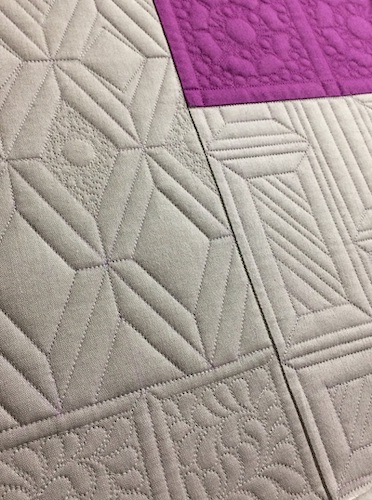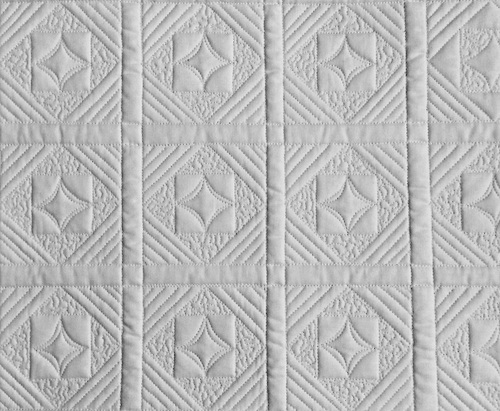 Skill Level: Beginner - Intermediate

Description: Let me show you a fun way to create unique designs that are so versatile you can use them as background fills, in borders and blocks, and as feature designs in large areas of negative space. By marking a basic "Tilework" layout (think: straight grid, circular grid, triangles, mosaic, and more), then filling in areas with multiple freehand designs, you will create designs that are unique to you! You will see how endless the options are when you discover how many creative options you have. You can choose to have "grout" lines between your tiles if you like (or not), and then decide if you will quilt them, leave them un-quilted, or fill them with a design. All of these creative options allow you to determine the textural effects your design will provide.

Machines Provided by: The Grace Company
Note: This is a stand-up longarm class. One person per machine head.

Kit Contents: All material needed to complete class sample

Same Class as 4011N

Click Here to Download Your Supply List
Wait List only
---
1011N – Gridwork Reimagined
$137.00
Jodi Robinson
Location: Room 1
One day
Monday, January 17th 2022
From 12:30 PM to 3:30 PM
Kit Fee $
20.00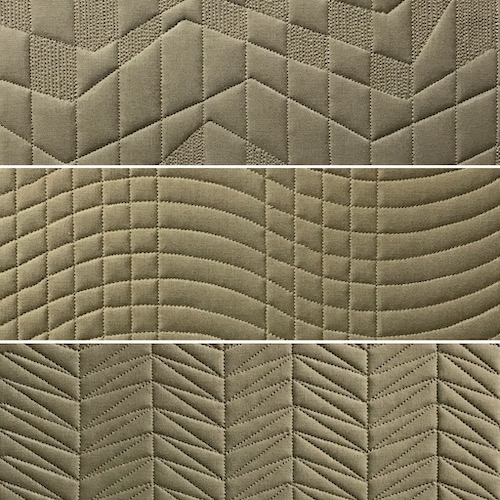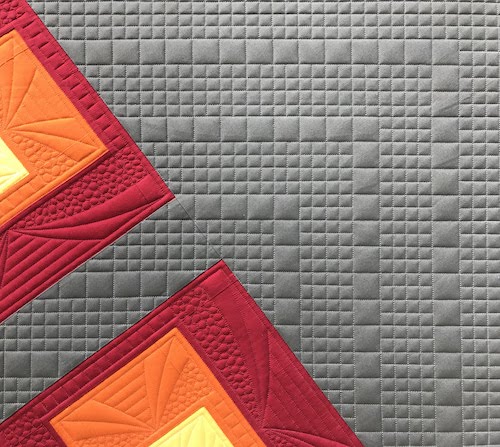 Skill Level: Intermediate

Description: I think most machine quilters have stitched gridwork in many of its different forms: grids, crosshatching, curved crosshatching, and adding design elements to a grid. In this class, I will share with you some very unique, and different design ideas to change up the common grid. Learn to look at grids in a whole new way, to create unique gridwork designs that will take your quilting up a notch. Students MUST be comfortable doing rulerwork.

Machines Provided by: The Grace Company
Note: This is a stand-up longarm class. One student per machine head.

Kit Contents: All materials needed to complete class sample

Same Class as 6009N

Click Here to Download Your Supply List
---
1012C – Template Mania
$137.00
Patricia Simons
Location: Room 106
One day
Monday, January 17th 2022
From 8:30 AM to 3:30 PM
Kit Fee $
10.00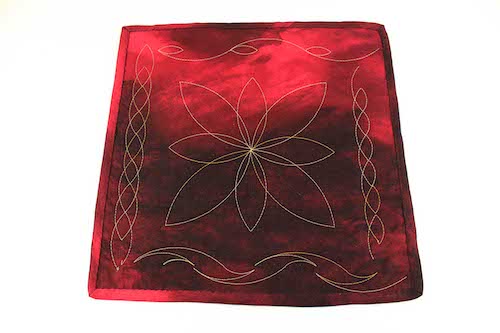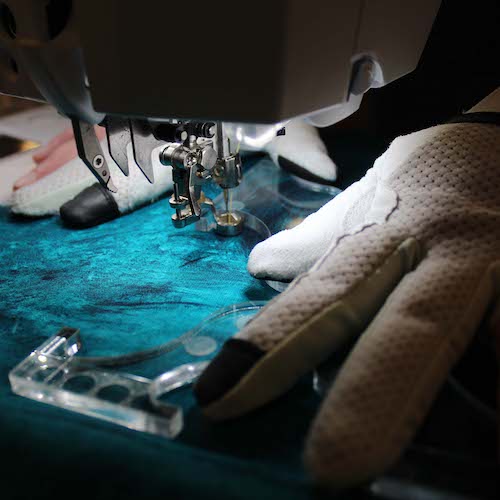 Skill Level: Beginner

Description: Are you ready to put finish your own quilts? Have you acquired a template (aka ruler) or two, but don't know what to do with them? In this hands-on workshop you'll learn techniques for moving the templates to create wonderful designs. Discover the wonder of different designs one tool can create. Explore the creative possibilities templates open for those of us who cannot freehand for the life of us! No artistic talent needed! Questions please email: patricia@quiltersrule.com

Machines Provided by: BERNINAQ20/700. This classroom features half Bernina Q20 and half BERNINA Domestic Machines. Students will split their time on both machines.
Note: The Skills Learned in this class are transferrable to a standard home domestic machine.

Kit Contents: 8 pt reusable Design Grid, dry erase pen, and two (2) template testers. I provide the three templates for use in the classroom

Click Here to Download Your Supply List
---
1014C – Sugar and Spice
$107.00
Deb Tucker
Location: Room 203AB
One day
Monday, January 17th 2022
From 8:30 AM to 3:30 PM
Kit Fee $
60.00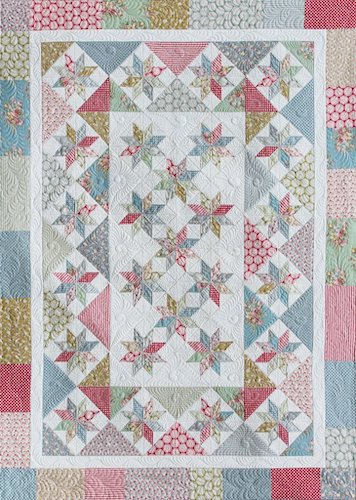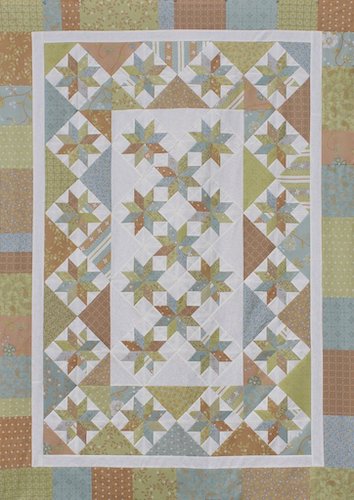 Skill Level: Intermediate

Description: This sweet quilt design will show you everything nice about the Rapid Fire Lemoyne Star tool. The project is made using an on-point arrangement of scrappy Lemoyne Stars accented by half-square and quarter-square triangle setting blocks. You'll use Studio 180 Design's Rapid Fire Lemoyne Star and Tucker Trimmer I tools to construct this charming quilt. Students should be comfortable with rotary cutting and machine stitching to be successful in this class.

Machines Provided by: Brother

Kit Contents: Required tools and pattern $60.00 (unless currently owned by attendee) Amount may vary depending on items currently owned by attendee.unless students already own the items . Current pricing - Rapid Fire Lemoyne Star tool cost $33.50, Tucker Trimmer I cost $21.50 and pattern cost $5.00

Click Here to Download Your Supply List
Wait List only
---
1016C – Being Creative with Tsukineko Inks
$97.00
Bobbie Bergquist
Location: Room 100A
One day
Monday, January 17th 2022
From 8:30 AM to 3:30 PM
Kit Fee $
55.00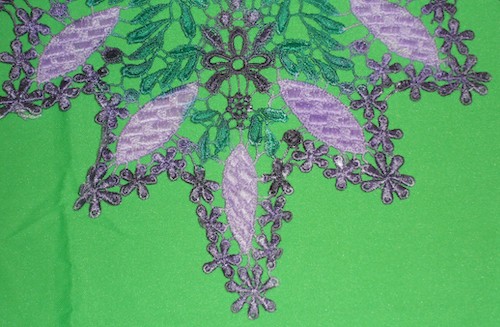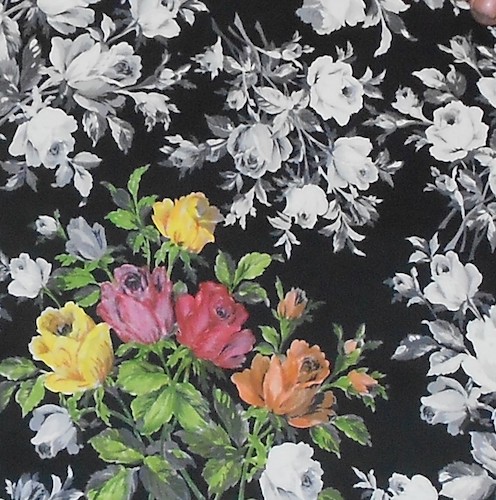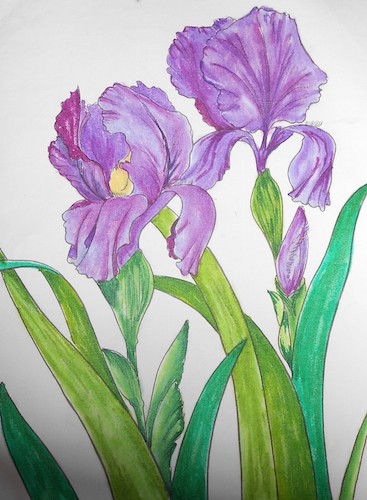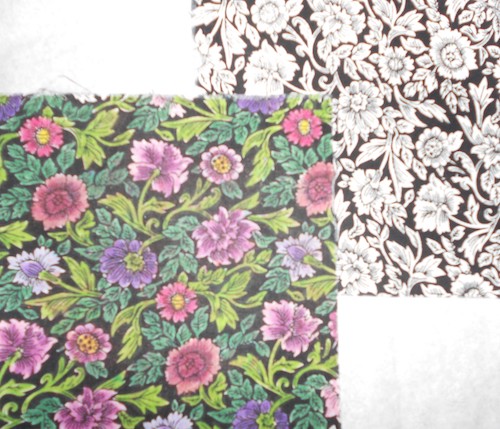 Skill Level: All Levels

Description: Do you have or wonder how to use Tsukineko Inks? Would you like to learn to use both the liquid bottles and the Fabrico Pens? Would you like to know how to create the right colors when you run out of fabrics? Join us and learn the benefits to using Tsukineko water-based inks. They are non-toxic, acid free and achievable. More than 20 techniques are shown using Tsukineko All Purpose Inks and Fabrico Pens. Tsukineko Inks be used on both natural & man-made textiles with no special fabric preparation. A few of the techniques covered are Marbling & Drawing on Shaving Cream, Using Silk Screens & Stencils, Using Tone on Tone & Black & White Fabrics, Lace, Faux Shibori, Salt, Crayons, Rubber Stamps, Aloe Vera. Tsukineko Inks can also be used on any porous surfaces; wood, leather, tiles, ceramics, pottery & more. No previous experience is needed and its fun for all ages. We'll give you more ides to consider like marbling sneakers and socks and show you many samples to inspire you.
Most techniques can be done in class and you will have an opportunity to try these techniques.

Painting Class

Kit Contents: New CD, various fabrics, 6 bottles of Tsukineko Ink; (red, yellow, blue, green, white & black), work sheet & scraper. Other colors can be purchased after class @ $4.49 for colors & $4.99 for gold, silver, copper, & 4 pearled inks. There are 46 colors available.
Full kits of remaining 40 colors can be ordered prior to class at the show special price of $146.50. Please e-mail joe@quilterstreasure.com requesting these ink kits. These will not be available in class unless previously ordered.
Contact Joel or Bobbie at Joe@QuiltersTreasure.com if you have any questions regarding this class.

Supply List: Wear old clothing. Bring latex gloves if you don't want to get ink on your hands. (Ink is water based and cleans up with soap & water) 1 large zip lock bag, trash bag, paper towels, tooth picks, can of shaving cream (lightly or non-scented if possible, Dollar Store works best) plastic coffee stirrer from fast food restaurant, Popsicle stick or similar tool, small paint brushes, or any other tool you would like to experiment with. You may also bring additional specialty fabrics or clothing to try.
---
1017C – Free-Motion Freedom
$137.00
Gina Siembieda
Location: Room 200AB
One day
Monday, January 17th 2022
From 8:30 AM to 3:30 PM
Kit Fee $
20.00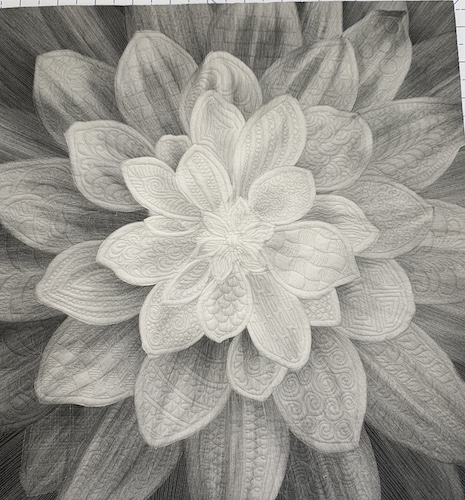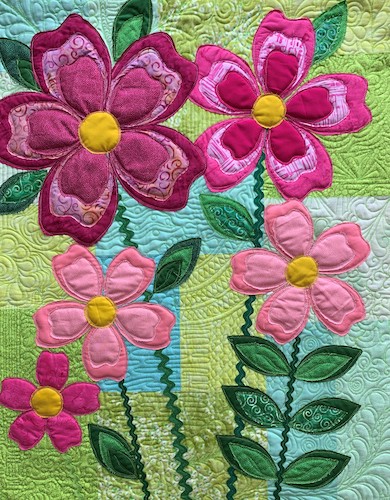 Skill Level: Beginner - Intermediate

Description: This is an exploration into free-motion quilting. Are you tired of stitch-in-the-ditch (SID) on your stationary machine? We will explore free-motion quilting and the many designs that are possible. It's easier than you think! By exploring different designs and practicing them in class, you will create designs that can be used to complete any quilt. This hands-on class will give you the opportunity to immediately put into practice what you learn.

Machines Provided by: Handi Quilter Capri
Note: This class is a sitdown longarm machine class. The skills learned in this class are transferable to a domestic machine.

Same Class as 5002C

Kit Contents: This will include a multi-page handout and fabric sandwiches needed during class

Click Here to Download Your Supply List
---
1018C – Precision Machine Piecing: What a Flake!
$102.00
David Taylor
Location: Room 202AB
One day
Monday, January 17th 2022
From 8:30 AM to 3:30 PM
Kit Fee $
10.00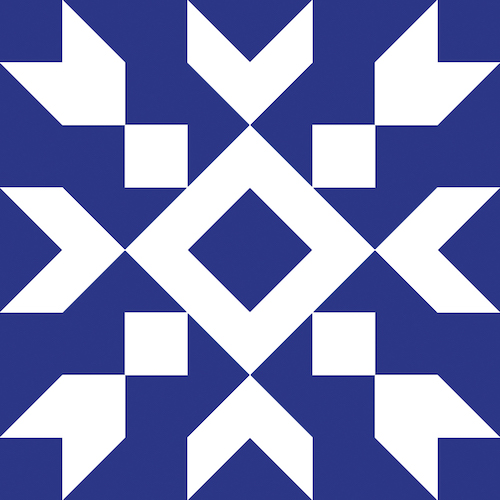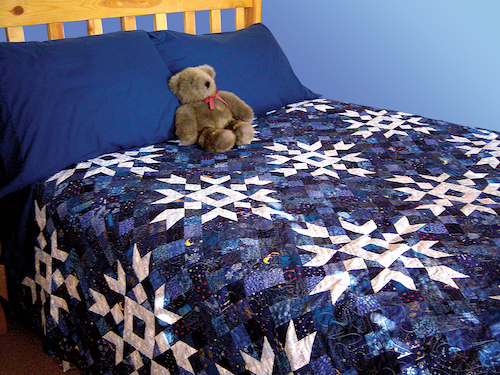 Skill Level: All Levels

Description: This is a project class for learning precision machine quilting on a home sewing machine. Topics include fabric preparation and precision cutting. Students supply their own fabrics. Please have machines in clean, working order with a fresh needle installed. Students should be able to complete one 12-inch block.

Machines Provided by: Juki

Kit Contents: Pattern

Click Here to Download Your Supply List
---
9100C – San Diego Highlights
$137.00
Pam Overton
Location:
One day
Monday, January 17th 2022
From 7:45 AM to 5:15 PM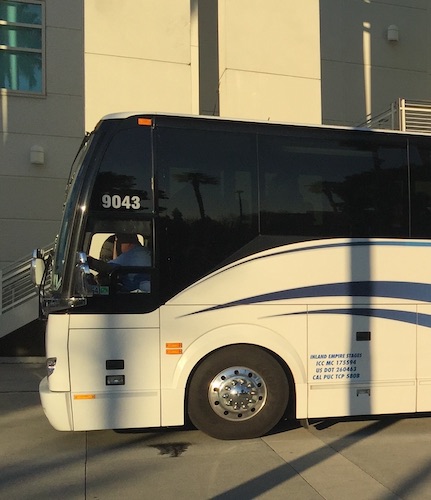 Our first stop today will be at Quilt in a Day in San Marcos, CA. This is home base for the one and only Eleanor Burns. You'll have time to shop before and after her show where you'll be in the audience. Eleanor will join us for lunch catered by Panera. You'll be part of the audience as Eleanor demonstrates (as only Eleanor can!) her techniques to make quilt construction fun, fast, and easy! She always offers some specials to her audience so shopping is in order!

After lunch we're off to the Inspirations Quilt Shop in Valley Center. They offer a wide selection of fabrics of all types as well as notions and patterns to inspire you.

As we return to Ontario, we'll stop in Temecula to visit Primitive Gatherings. This is a wonderful shop that has something for everyone – wool kits and wool to add to your stash, primitive fabrics, reproductions, and a wide selection of bright, contemporary-to-modern fabrics. If you're familiar with Primitive Gatherings at the show, imagine that booth x 10!

Note that Admission to the Eleanor Burns show, lunch and all gratuities are included in the price of the tour.

Depart from Ontario Convention Center: 7:45 a.m. (note the earlier departure time)
Return to Ontario Convention Center: 5:15 p.m. (return time, of course, is dependent on traffic)

Please Note due to requirements by the tour operator masks are required to be worn by everyone during the duration of the tour.
---