Class List
Classes for Thursday
4001C – Perfecting Piecing: Scrappy Star Quilt
$112.00
Lee Chappell Monroe
Location: Room 202AB
One day
Thursday, January 19th 2023
From 8:30 AM to 4:30 PM
Kit Fee $
85.00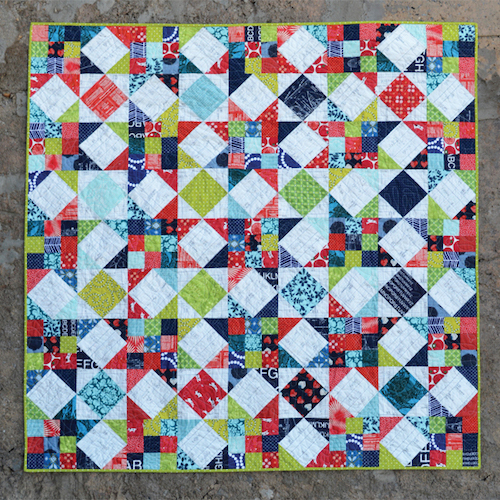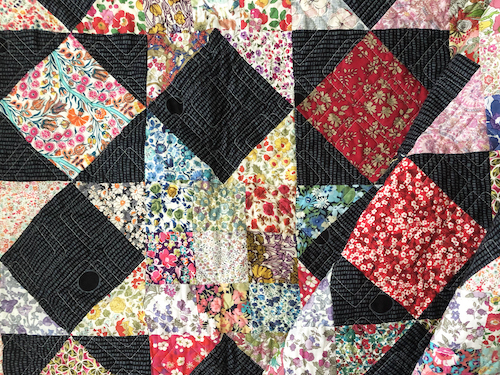 Skill Level: Beginner - Intermediate

Description: Students will focus on improving their piecing technique while constructing a few blocks of May Chappell Scrappy Star Quilt. We will talk about strip piecing scrappy nine patches. Students will learn tips to randomize their fabric and accurately sew strips. We will also make square in a square units and discuss different trimming options for this block. They will leave with an arsenal of machine piecing tools and tips for perfect points. We will discuss color and value in relation to the block layout. A great class for confident beginners looking to improve their patchwork piecing skills. Best for confident beginners and intermediate piecers.

Machines Provided by: Juki

Kit Contents: Fabric for throw size quilt top and binding.

Click Here to Download Your Supply List


---
4002C – The Violet Craft Unicorn or Horse Quilt
$120.00
Violet Craft
Location: Room 203C
One day
Thursday, January 19th 2023
From 8:30 AM to 4:30 PM
Kit Fee $
160.00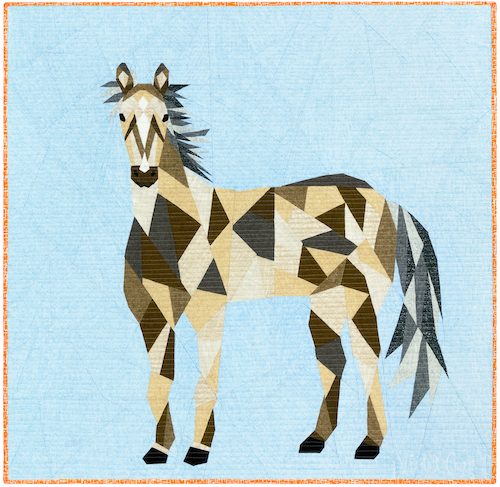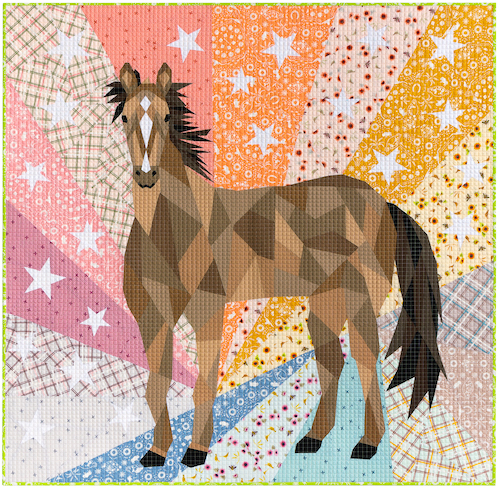 Skill Level: Beginner - Intermediate

Description:The Unicorn or Horse Abstractions Quilt Finished Size: 60" x 60" Technique: Foundation Paper Piecing Choice of 2 kits: Darker Brown on Blue Background or Brown on muted rainbow Buffalo Flats Fabric Options: Either kit can be a Horse or Unicorn based on your preference and can include or exclude stars. This will be covered in class. Foundation paper piecing is a great project for any sewist from beginner to advanced. There is always something new to learn! We will begin our time discussing general information about foundation paper piecing, best practices and tools. Then we will begin our project together and work step by step through foundation paper piecing. More advanced students are encouraged to move forward while I work with students requiring more hands on instruction. If time allows advanced techniques will be covered with students who are ready for them. Throughout the class period I will stop the group and demonstrate as questions arise. Before the end of our time together we will cover paper removal, finishing and quilting.

Machines Provided by: Janome

Kit Contents: Pattern, precopied templates and all fabric to complete a 60" x 60" quilt top. Binding included.

Click Here to Download Your Supply List


---
4003C – Matrix
$112.00
Gyleen Fitzgerald
Location: Room 201AB
One day
Thursday, January 19th 2023
From 8:30 AM to 4:30 PM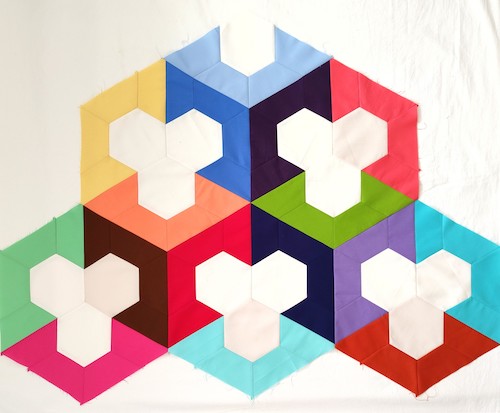 Skill Level: Beginner - Intermediate

Description: Something within or from which something else originates develops, or takes form. Striking, modern, graphic, let's take the tumbling block to the edge of possibilities. A geometric pieced hexagon block that stitches like a dream using Butterfly Seam technique. Huge 15" x 17" pieced hexagon. It's fast, its quick using the Polygon2 Tool and Butterfly Seam. Final quilt size is your choice.

Machines Provided By: Pfaff

Kit Contents: None

Click Here to Download Your Supply List


---
4004C – Machine Quilting Magic
$170.00
Lori Kennedy
Location: Room 106
One day
Thursday, January 19th 2023
From 8:30 AM to 4:30 PM
Kit Fee $
35.00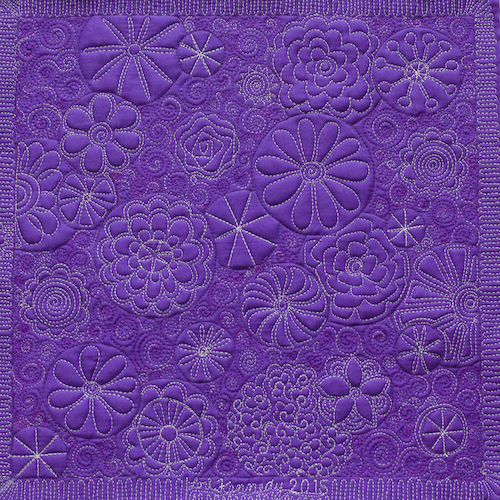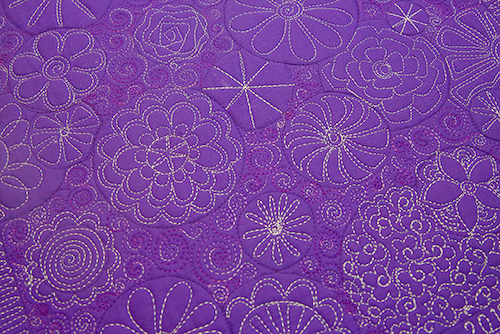 Skill Level: All Levels

Description: Transform your quilt top into a three-dimensional work of art through the magic of machine quilting! Learn how to tweak your machine to create "the perfect stitch" while practicing techniques to help you find your "quilting flow". Learn all about thread. Discover how fiber, weight, color and manufacturing processes produce unique threads for a variety of machine quilting effects. Create a sampler of threads and easy quilting motifs to magically turn your quilt top into a treasured heirloom!

Machines Provided by: BERNINA of America

Kit Contents: 3-Fat quarter Quilt Sandwiches with batting
Heavy weight top threads
Medium weight threads (bobbin and top thread)
Written materials/diagrams

Click Here to Download Your Supply List
---
4005C – (P) Freemotion Floral Galore
$170.00
Claudia Pfeil
Location: Room 200C
One day
Thursday, January 19th 2023
From 8:30 AM to 4:30 PM
Kit Fee $
50.00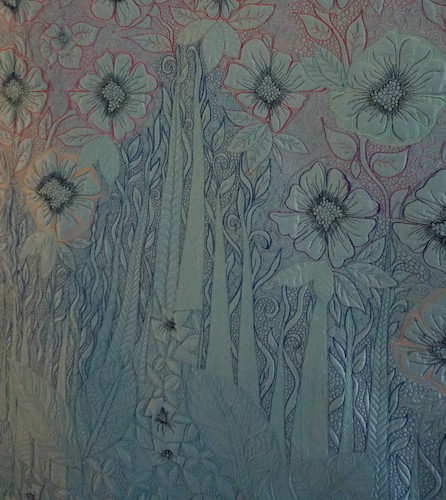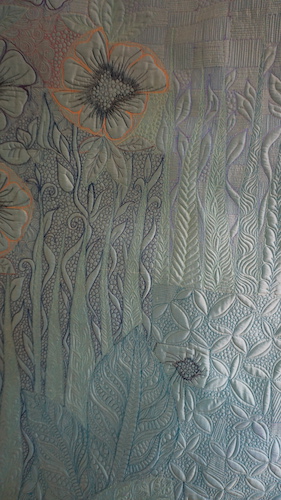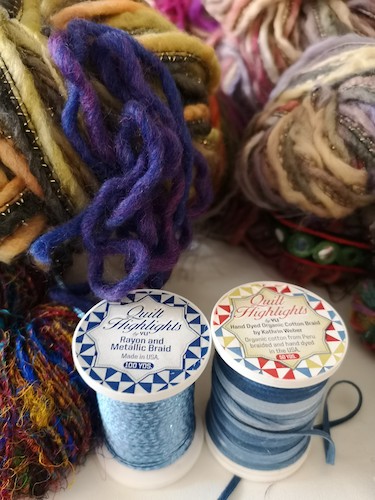 Skill Level: Intermediate

Description: Let it flow and grow, the quilting space is the limit: create organic leaves and blossoms in a freemotion way. Combined with background fills , threadpainting and couching threads you will create unique designs of your own style and handwriting.

Machines Provided by: Handi Quilter
Note: This is a stand-up longarm class. Two students share a machine head, and time is split equally on the machine.

Kit Contents: Fabrics for top and backing, batting, threads, a collection of couching threads and yarns, design-booklet

Click Here to Download Your Supply List


---
4006N – Freemotion Fillers
$145.00
Julia Quiltoff
Location: Room 1
One day
Thursday, January 19th 2023
From 8:30 AM to 11:30 AM
Kit Fee $
25.00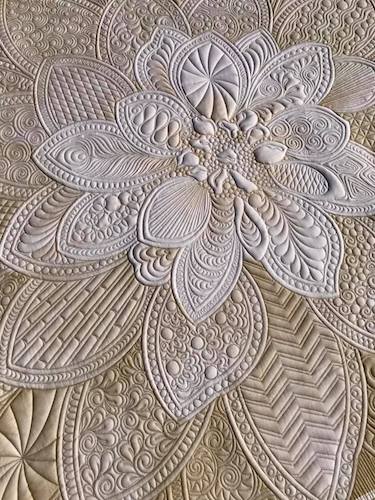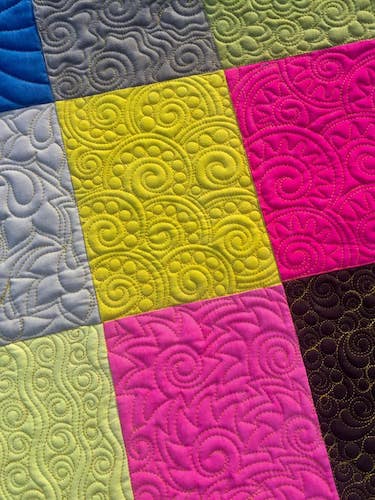 Skill Level: All Levels

Description:You are going to learn 50+ different quilting fillers, from classic to modern. I will show groups of fills (modern, swirl based, curl based, pebble based, feather based, etc.) and teach how to quilt them all, combine and create your own ones! You will get more comfortable with polishing freemotion techniques, combining densities and understanding contrast.

Machines Provided by: The Grace Company
Same Class as 1009N

Kit Contents: Fabric for top and back, batting, spool of Glide thread, marker for fabric, small straight ruler, printouts.

Click Here to Download Your Supply List


Wait List only
---
4007N – Doodle and Zentangle Quilting
$145.00
Julia Quiltoff
Location: Room 1
One day
Thursday, January 19th 2023
From 12:30 PM to 3:30 PM
Kit Fee $
25.00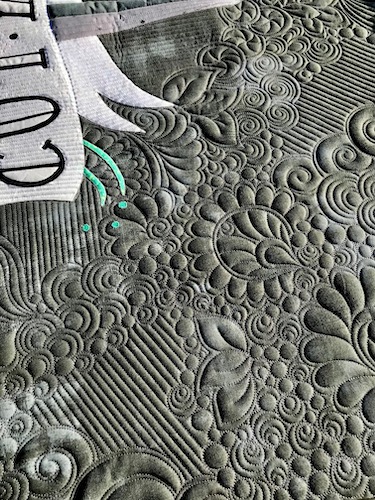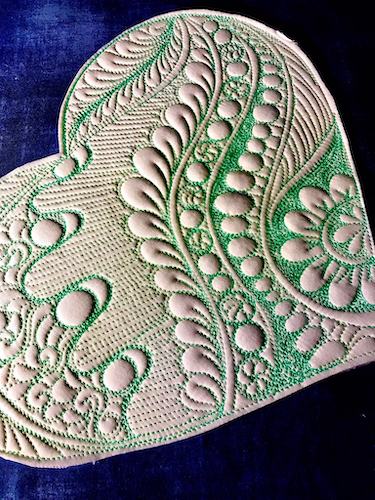 Skill Level: All Levels

Description:Students will learn the basic theory of Doodle and Zentangle art implemented into quilting with easy to follow instructions for creating a pattern and quilting it. Promote your creativity and reduce stress while creating unusual forms and textures and let this experience embellish your quilting path!

Machines Provided by: The Grace Company
Same Class as 1008N

Kit Contents: Fabric for top and back, batting, spool of Glide thread, marker for fabric, small straight ruler, printouts.

Click Here to Download Your Supply List


---
4008C – Mandala Mania: A Freemotion and Rulerwork Exploration
$98.00
Kate Quinn
Location: Room 204
One day
Thursday, January 19th 2023
From 8:30 AM to 4:30 PM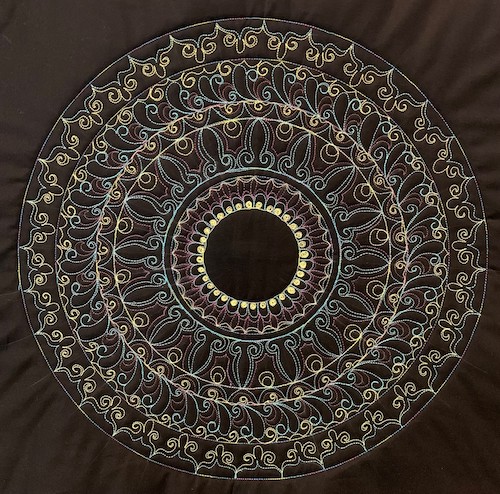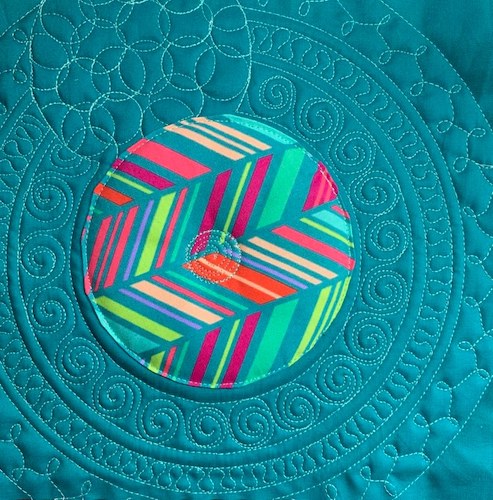 Skill Level: Beginner - Intermediate

Description:This class is a mixture of freemotion and rulerwork. Learn to use the Westalee Circles on Quilts templates to create concentric circles. Then embellish them with delicious freemotion detail. Learn simple, fundamental free-motion quilting designs while emphasizing these circle shapes. Techniques include dividing, echoing, segmenting, and other free-motion tips for setting off uniquely rounded design shapes. These shapes can be applied to pieced blocks or superimposed over unrelated shapes. These can be used as their own main motifs or used to fill negative space as designs so great for both traditional and modern quilting styles.

Machines Provided By: Baby Lock

Kit Contents: None

Click Here to Download Your Supply List


---
4009C – Little Old Lady Who Lived in a Shoe
$103.00
Emily Taylor
Location: Room 100B
One day
Thursday, January 19th 2023
From 8:30 AM to 4:30 PM
Kit Fee $
35.00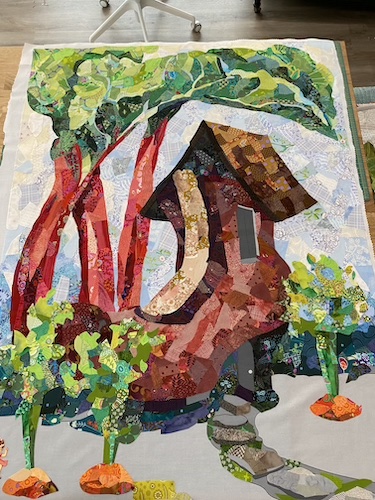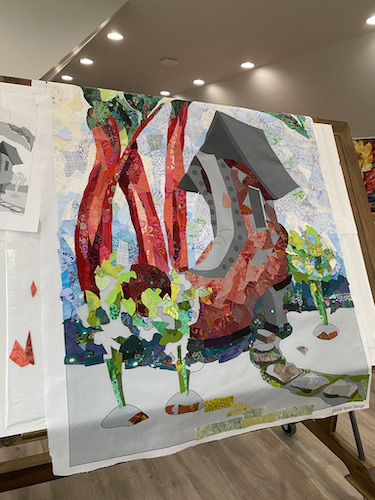 Skill Level: All Levels

Description: You've never had so much fun with nursery rhymes! Learn the basics of making a collage quilt as you work on this adorable collage quilt! The Little Old Lady Who Lived in a Shoe is a foundation panel quilt, so it's just like painting by number with fabric, and anyone can do it!

Hand Work

Kit Contents: Pre-Printed Foundation Panel & Pattern

Click Here to Download Your Supply List


---
4010C – Embroider & Sew a Stylish Skirt
$250.00
Angela Wolf
Location: Room 203AB
One day
Thursday, January 19th 2023
From 8:30 AM to 4:30 PM
Kit Fee $
69.00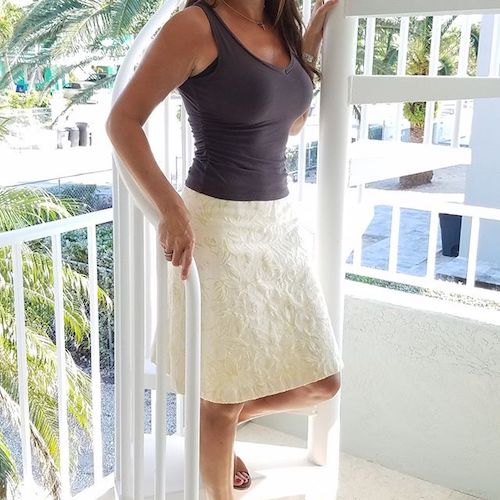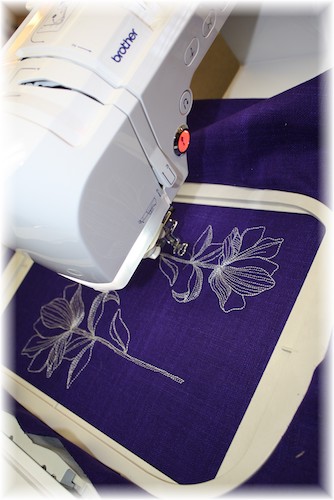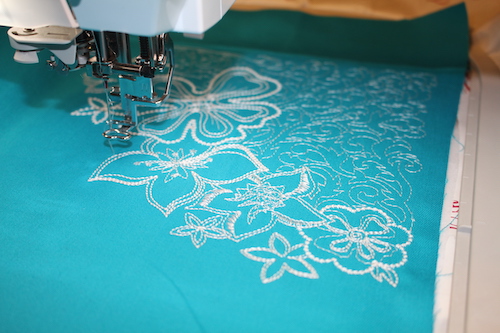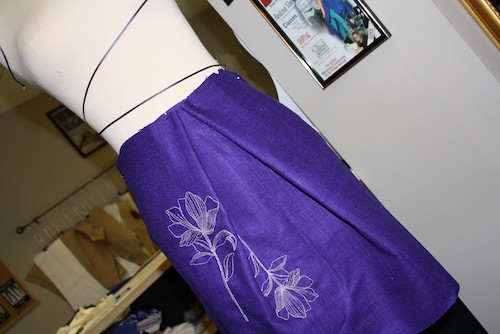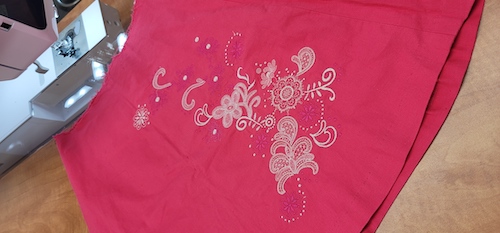 Skill Level: All Levels

Description: Enjoy a full day of sewing and embroidering with Angela Wolf, host of It's Sew Easy and founder of Angela Wolf Patterns & Online Academy. Start by designing your own fabric with embroidery. We will use that fabric to sew up a cute skirt! Angela will help you with fitting and pattern alterations. Then you will embroider your skirt fabric and sew the skirt together. In this class you will learn how to sew an invisible zipper, darts, hem options for an A-line skirt along with other tips for sewing designer looking garments.

Machines Provided by: Brother

Kit Contents: Angela Wolf Kate Skirt Pattern available in size 0 to 36W, Cotton blend fabric for skirt in neutral colors, thread, hidden zipper, interfacing, embroidery stabilizer, measuring tape, sewing machine needles, button, tailors chalk

Supply List: Paper Scissors, Fabric Scissors, Pins, 12" or longer Quilters Ruler, Pencil
---
4011C – Fill in the Blanks - Fun, Free Motion Design
$170.00
David Taylor
Location: Room 200AB
One day
Thursday, January 19th 2023
From 8:30 AM to 4:30 PM
Kit Fee $
40.00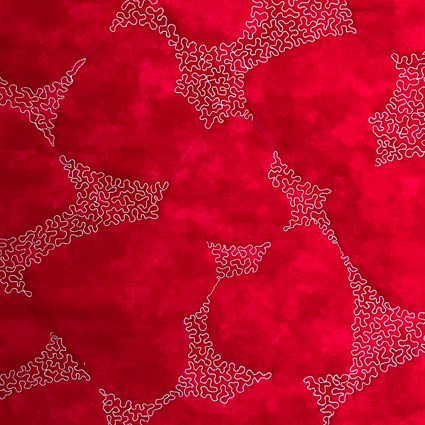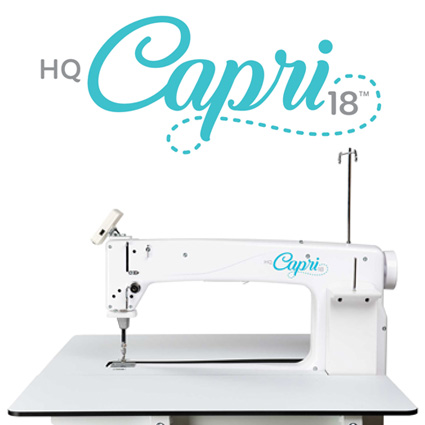 Skill Level: Beginner - Intermediate

Description: Staring at wide open spaces? Not sure which design you want to use on your quilt? Do you hate making feathers? David will show you fun ways to fill in the blanks, from easy stippling and loop-de-loop and to easy grid work and organic motifs.

Machines Provided by: Handi Quilter Capri

Kit Contents: fabric and batting sandwiches, marking pen, thread

Click Here to Download Your Supply List


---
4012C – Hand Quilting Basics and Beyond
$112.00
Becky Goldsmith
Location: Room 105
One day
Thursday, January 19th 2023
From 8:30 AM to 4:30 PM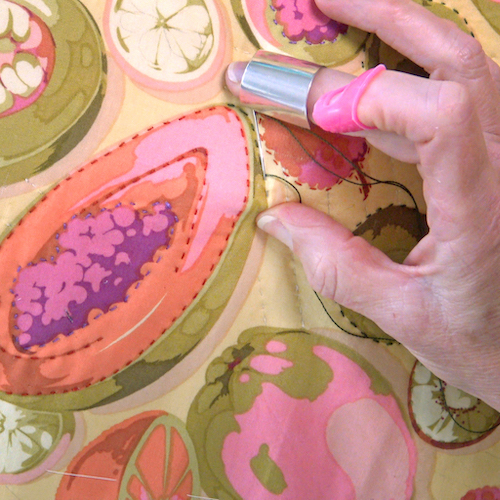 Skill Level: All Levels

Description: Hand quilting adds beautiful texture and softness to your quilts. You will love the relaxed rhythm of hand quilting and experience real joy as you watch your stitches enhance your quilt. And just so you know, it is perfectly OK to mix hand and machine quilting! Learn how to baste the layers, prepare the edges of the quilt so they stay tidy as you quilt. Most importantly, you will learn the classic hand quilting, rocking stitch. You will have the choice of making small, traditional stitches or showy, fast, big stitches.

Hand Work

Kit Contents: None

Click Here to Download Your Supply List


---
4013C – Mending, and Hand Embroidery from Around the World
$112.00
Sandra Chandler
Location: Room 107C
One day
Thursday, January 19th 2023
From 8:30 AM to 4:30 PM
Kit Fee $
20.00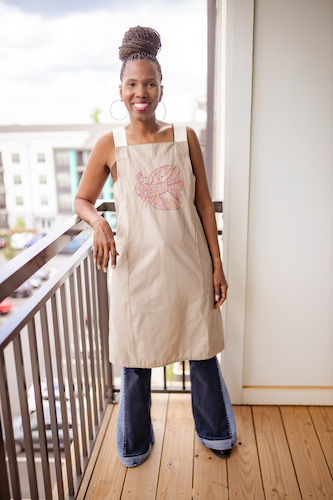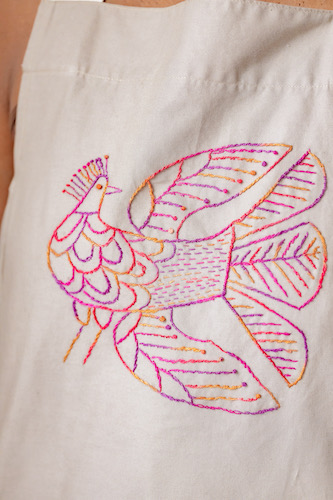 Skill Level: All Levels

Description: Mending is a beautiful way to work with traditional Japanese Boro stitches transforming torn or distressed garments, homewares, and other textiles into beautiful new fashions. We will work on mending holes and tears, completing two projects during the workshop.
There are many beautiful embroidery techniques out there from around the world. In this workshop, you will learn various styles and the use of many different materials with one thing in common their tradition and heritage. You will work on beautiful patterns from all corners of the world. The samples are perfect for all ages and skill levels. We will go through some of the most popular embroidery techniques.

Hand Work

Kit Contents: Written Instructions, Thread, Needle, Fabric, Embroidery Print - Stitch - Dissolve paper

Click Here to Download Your Supply List


---
4061C – Floated 3D Quilt
$53.00
Ruth Ann Berry
Location: Room 103
One day
Thursday, January 19th 2023
From 6:00 PM to 9:00 PM
Kit Fee $
60.00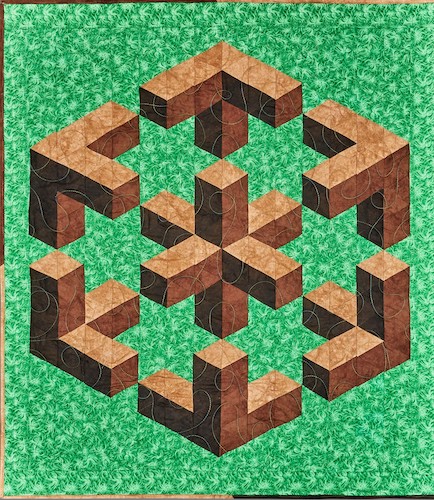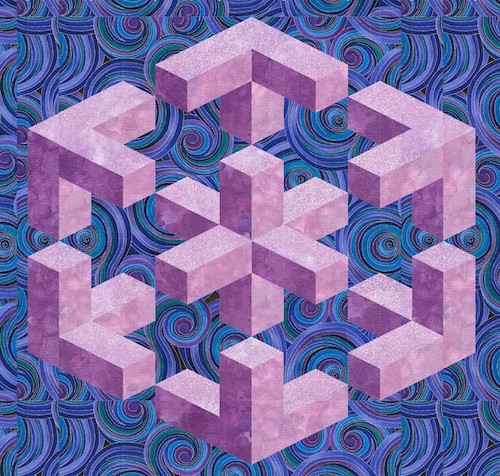 Skill Level: Intermediate

Description: Create the illusion of depth with vertical rows of equilateral triangles and no "Y" seams. Use color and value instead of complicated piecing to give the impression of 3D.

Machines Provided by: Viking

Kit Contents: Fabric to complete the quilt top plus the book "Stunning 3D Quilts" by Ruth Ann Berry

Click Here to Download Your Supply List


---
4062C – Perfect Slow Stitches
$57.00
Carrie Fondi
Location: Room 105
One day
Thursday, January 19th 2023
From 6:00 PM to 9:00 PM
Kit Fee $
30.00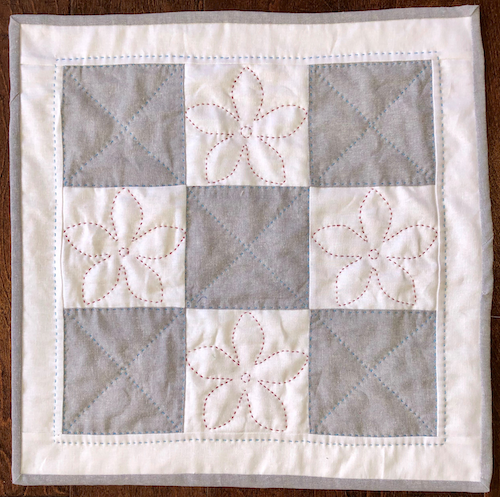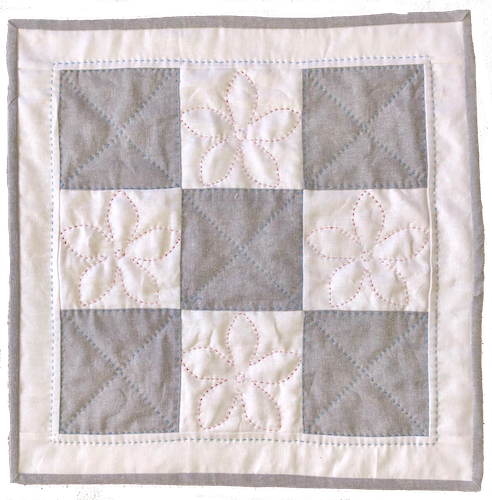 Skill Level: Beginner

Description: Big Stitch Hand Quilting. Add finishing details to your quilt with big stitch hand quilting. Perfect slow stitches is a technique class that covers needles, threads and stitching practice. Anyone can hand quilt with ease!

Hand Work

Kit Contents: Fabric, threads and needles for class sample, handouts

Click Here to Download Your Supply List


---
4063C – Shirt Lace Buttons
$59.00
Catherine Redford
Location: Room 107C
One day
Thursday, January 19th 2023
From 6:00 PM to 9:00 PM
Kit Fee $
15.00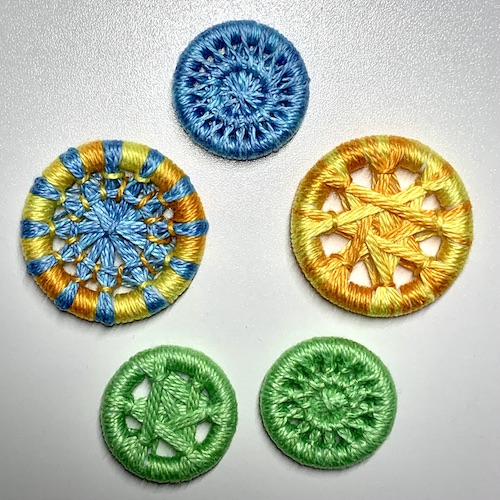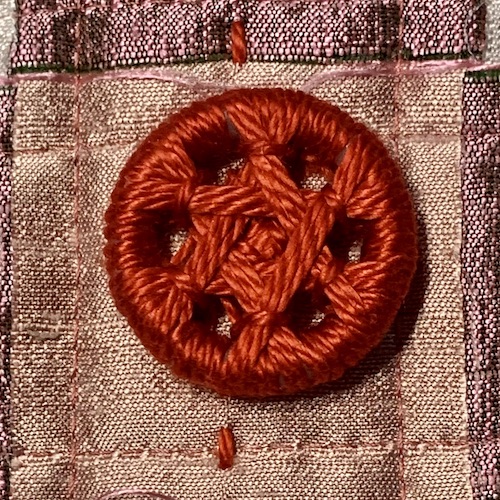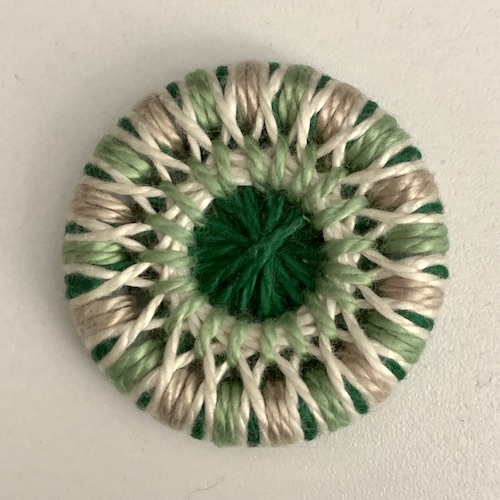 Skill Level: Intermediate

Description: A more modern innovation than the traditional Dorset button, Shirt lace buttons date back to the Edwardian era at the beginning of the twentieth century. Start with the Star Shirt lace, progress to the Austrian Shirt lace, and finish with the slightly trickier, but most popular, Lace Shirtwaist. Finish the class as a fully trained buttoner!

Hand Work

Kit Contents: Rings, Needles, Thread, Beeswax, & Handout

Click Here to Download Your Supply List


---
4064C – Chain Maille 101
$53.00
Sheri Tarrant
Location: Room 100B
One day
Thursday, January 19th 2023
From 6:00 PM to 9:00 PM
Kit Fee $
55.00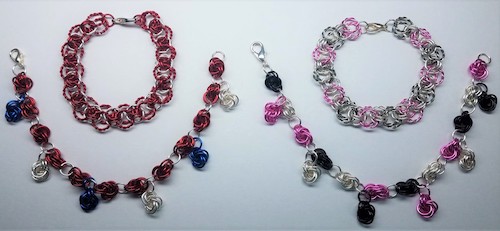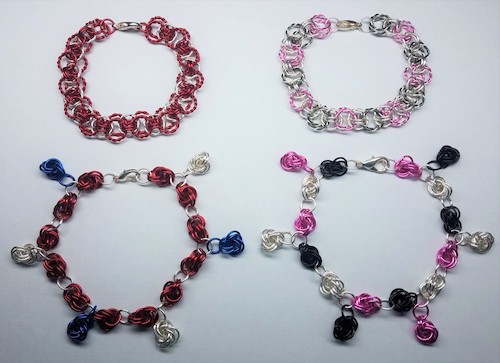 Skill Level: Beginner

Description: Have you ever wanted to learn how to make beautiful jewelry using bright and colorful jump rings? Then this is the class for you! Come learn the basics of chain maille and what it is all about. Then you will learn the techniques to make these two wonderful bracelets and walk away with the confidence and desire to make more and more and more! Chain maille is very addicting and is so much fun. Kits will include enough supplies to make 2 bracelets, one of each, up to 8 inches in length, and will be available in many different color combinations. Come see what the world of chain maille is all about!

Hand Work

Kit Contents: Jump rings in multiple colors for charm bracelet, clasp, twisted jump rings, coordinating smaller jump rings, clasp for twisted bracelet.

Click Here to Download Your Supply List


---
4501H – Landscape Collage
$280.00
Gloria Loughman
Location: Doubletree Ballroom
Two Days
Thursday, January 19th 2023
From 8:30 AM to 4:30 PM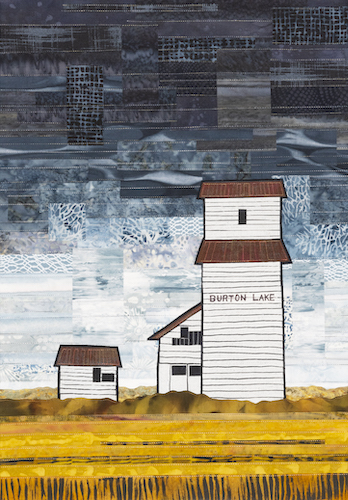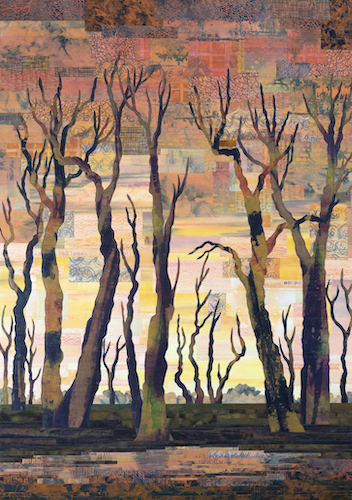 Skill Level: All Levels

Description: The focus of this workshop is to create a landscape where the play of light and colour across the surface adds movement and perspective. We will start by drawing out our design then selecting our colour scheme and fabrics. The collage process will then be demonstrated, and participants will work on their backgrounds. The tiles are quilted in place before the foreground details are added. Lots of tips along the way and information about doing a faced edge is included. Participants can use one of my patterns or work on their own designs. Suggested maximum size- 20 ins. X 30 ins

Bring Your Own Machine

Kit Contents: None

Click Here to Download Your Supply List


---
4502C – Soy Wax Batik
$206.00
Kevin Womack
Location: Room 100A
Two Days
Thursday, January 19th 2023
From 8:30 AM to 4:30 PM
Kit Fee $
25.00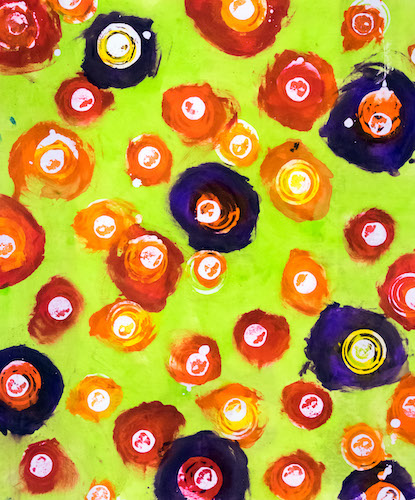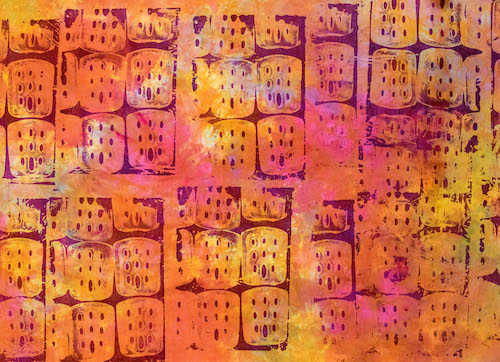 Skill Level: All Levels

Description: Make your mark and add your own stamp to your fabrics! Using metal or silicone objects with interesting patterns and hot soy wax, you will create batik fabrics that are unique to you. Learn to layer pattern and color with fabric paints as you work to create rich, one-of-a-kind designs!

Design

Kit Contents: Soy Wax

Click Here to Download Your Supply List


---
4601C – From Quilt to Coat
$294.00
Teresa Coates
Location: Room 107AB
Three Days
Thursday, January 19th 2023
From 8:30 AM to 4:30 PM
Kit Fee $
25.00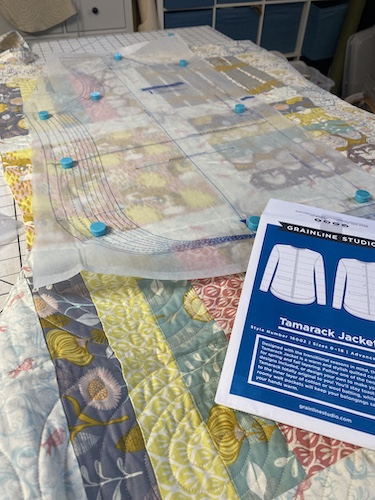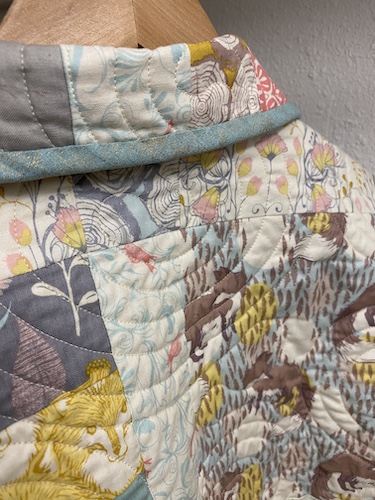 Skill Level: All Levels

Description:Quilted clothing has been used for many decades and is as stylish as it is utilitarian. Learn how to take your quilt (minimum twin size to king size) to another level by making it wearable. We'll talk about pattern styling, sizing, modifications and more. Larger sizes and longer versions will want a queen or king size quilt to start with. Must be quilted, but can be unfinished.

Machines Provided by: BERNINA

Kit Contents: pattern, optional snaps

Click Here to Download Your Supply List


---
9400D – Party Time!
$40.00
Road Staff
Location: Doubletree Ballroom
One day
Thursday, January 19th 2023
From 7:00 PM to 9:00 PM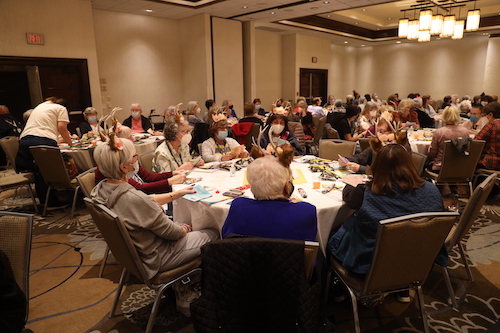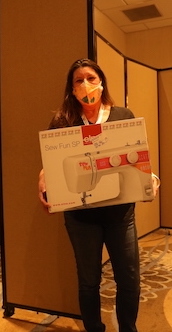 Come join us for a fun time! At the Double Tree hotel on Thursday night quilters gather for a night of games and fun. Don't forget the prizes either! This event hosted by Road's very own Matt Reese makes for an exciting evening. This event is a attendee favorite and one you do not want to miss.
---